January 7, 2019
The weather has been so beautiful. Thank the Lord for the great calving weather, now all we need are the calves! 🙂 We have three mommy cows that are within days of calving. I will post pictures when they arrive.
The sad news on our farm is our amazing farmer Dean has separated his left arm bicep muscle. Farming is more complicated with a 10 lb weight limit in one arm. We are very blessed that this happened in the winter. This has changed Jean's winter a bit because I now get to feed 100 lbs of hay to the sheep twice a day. The sheep are fed in the morning and evening. It is actually quite fun throwing them the bails from on top of the haystack. I feel very loved when they get all excited when I come to visit them.
Part of the morning and evening chores includes the am and pm check of the farm. I get to see if the calves have presented their cute little faces, if the coyotes had visited the farm the night before and the general safety of all the livestock and farm workings. Then I get to come report to Dean who is determined to do all of the taxes for the two businesses before Abby and I leave for Honduras and lambing season begins. Thanks for supporting our farm and be sure to see the discounts we are offering.
January 1, 2019
Happy New Year! Did you know that if you have a favorite fruit or vegetable, you can tell us by email, call or text 612-245-6271, or in person, and we'll see about planting them for you to enjoy.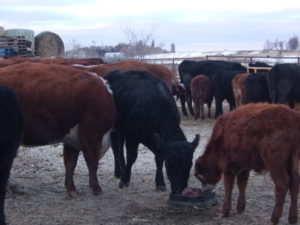 Exciting things for us right now are: two cows are ready to calve, our sheep will be due on the first of February, and we sold all our old chickens to make room for new ones.
Shares, meat, and granola are all available in the store.