March 13, 2019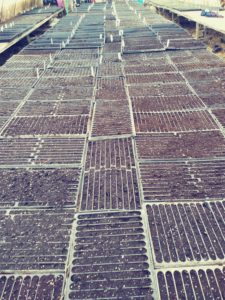 We have all the hightunnel tomatoes planted. Later, we will plant more tomatoes to sell as tomato plants. All the peppers, hightunnel and selling as plants, are planted.
Jonny's sheep hasn't lambed yet, but it's getting closer, and we have two cows that are due to have calves within the next two weeks!
The picture is of the front of the greenhouse. The back has a lot of water in it because of all the rain. The warmer temperatures are nice, but when it dips below freezing this weekend, we might have to use ice skates to get to the animals. 🙂
March 9, 2019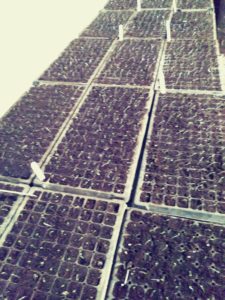 All three kinds of onions are planted! The very time consuming tiny seeds are finished!!! With the cold temperatures in February, we were behind schedule for planting seeds, but we spent two days hard at it and now we are caught back up!
The picture is of some of the flats of sprouted green romaine lettuce. These flats were planted in February before the cold weather.
We are up to 40 lambs now. It is a hopping and jumping lamb party out there. There are three sheep that have not lambed yet. The sheep Jonny bought at an auction with his scholarship money is still holding out on him. He is getting excited though. The fatter she gets the more he thinks she may have twins. 🙂 🙂
This year we have had 6 calves so far. Our cute twins are bottle fed. When a calf nurses from its mother, it gets more nutrients than if it is bottle fed, but if the mom can't feed them bottle feeding sure works. 🙂
March 6, 2019
Only two more weeks until it is officially Spring. In case you didn't know, last Saturday, when the discounts changed, so did the codes. Now you can get 3% discount on an order of $400 or more with the code 'eatingwell' or a 5% discount on an order of $600 or more with the code 'healthy1'.
February 27, 2019
Quick! On Saturday, the discount of 7% for a $600 or more order will drop to 5% for a $600 or more order, and the 5% discount for orders of $400 or more will drop to 3% discount. Here's the link to the store, or you can click on the store icon
 on the right.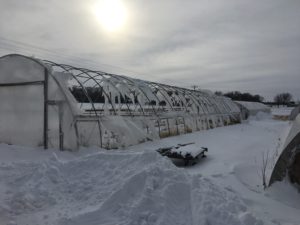 Currently, we are up to 34 lambs, should be harvesting microgreens in about three weeks, and even have a few calves and baby chicks!
Unfortunately, during the really cold snap earlier this winter left some of the plastic on one of our hightunnels in shreds, but the rest of the hightunnel is okay. Hopefully it will warm up soon so we can replace the plastic.
February 18, 2019
Random early Spring update:
We planted seeds for the first time this year. Most of our mama sheep have had their lambs, but we're still waiting for a few more. Here are some pictures for you. My favorite is the third one. 🙂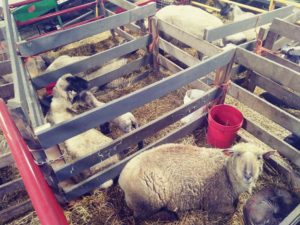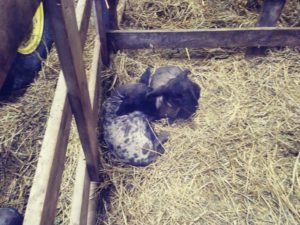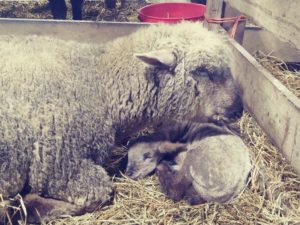 January 7, 2019
The weather has been so beautiful. Thank the Lord for the great calving weather, now all we need are the calves! 🙂 We have three mommy cows that are within days of calving. I will post pictures when they arrive.
The sad news on our farm is our amazing farmer Dean has separated his left arm bicep muscle. Farming is more complicated with a 10 lb weight limit in one arm. We are very blessed that this happened in the winter. This has changed Jean's winter a bit because I now get to feed 100 lbs of hay to the sheep twice a day. The sheep are fed in the morning and evening. It is actually quite fun throwing them the bails from on top of the haystack. I feel very loved when they get all excited when I come to visit them.
Part of the morning and evening chores includes the am and pm check of the farm. I get to see if the calves have presented their cute little faces, if the coyotes had visited the farm the night before and the general safety of all the livestock and farm workings. Then I get to come report to Dean who is determined to do all of the taxes for the two businesses before Abby and I leave for Honduras and lambing season begins. Thanks for supporting our farm and be sure to see the discounts we are offering.
January 1, 2019
Happy New Year! Did you know that if you have a favorite fruit or vegetable, you can tell us by email, call or text 612-245-6271, or in person, and we'll see about planting them for you to enjoy.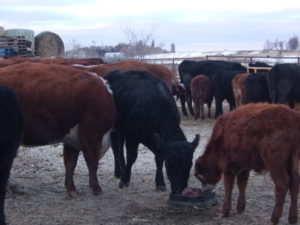 Exciting things for us right now are: two cows are ready to calve, our sheep will be due on the first of February, and we sold all our old chickens to make room for new ones.
Shares, meat, and granola are all available in the store.