You can feed your family healthy, simple, great tasting, local food spring through fall. You will receive a basket of fresh produce once a week during the summer. Season starts on Saturday, June 4th. Order your share at our store and enjoy fresh healthy eating at its best!
Here are some photos taken by one of our artistic members last year of their half share box from My Minnesota Farmer. Need recipe ideas for all these goodies? Find them at recipes. This is what community is all about!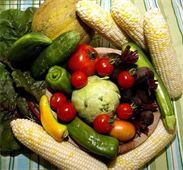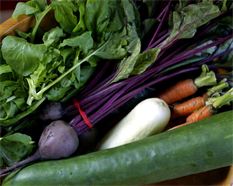 How do you get your produce?
We currently have drop sites in Mankato and at our farm. If you would like to come to the farm to pick up produce we would love to have you here!
As an added benefit to picking up your produce we will allow you to pick any extra produce we have that week.
Some of the produce included in our baskets:
apples
green beans
radishes
tomatoes
peppers
sweet corn
brussel sprouts
pumpkins
winter squash
spinach
muskmelon
wax beans
zucchini
turnips
tomatillos
snap peas
potatoes
celery
head lettuce
collards
carrots
cucumbers
leaf lettuce
kale
kohlrabi
broccoli
cabbage
eggplant
garlic
onions
bok choi
bunching onions
summer squash
ornamental gourds
swiss chard
beets
dill
cilantro
basil
parsley
We grow many different varieties of produce, but focus on the usual produce that people know how to use. For a bit of fun, we throw in about one or two new or unusual vegetables weekly so you can try something and possibly discover a new favorite. As an added benefit to our members, we allow you to come over and pick our 'extras' for fresh eating or canning. In the spring, come enjoy our annual baby chick day on May 15th, from 2-7. More information will be available as the date gets closer.