Looking for locally grown, best quality produce?
We can provide you with a basket of fresh, delicious produce weekly. Additionally, we sell eggs, chicken, beef, lamb, pork and turkey. Thank you for buying local and supporting your MN Farmers!
Early Sign up Discount ends February 28th. Order now for the reduced price!
February 24 is National CSA Day. Celebrate with us by signing up for fresh produce, meat or eggs weekly!
Member Login

2017 Store
Specializing in Produce without Stickers
You can feed your family healthy, simple, great tasting, local food spring through fall. You will receive a basket of fresh produce once a week for about 18 weeks or 21 weeks with our extended season option. We are excited to offer this extended season share of vegetables and fruit grown in the high tunnels. Become a member 
 and enjoy fresh healthy eating at its best!
Here are some photos taken by one of our artistic members last year of their half share box from My Minnesota Farmer. Need recipe ideas for all these goodies? Find them at recipes. This is what community is all about!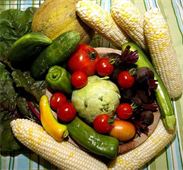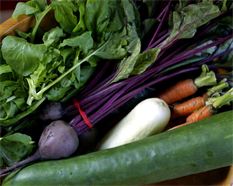 How do you get your produce?
We currently have drop sites in Minneapolis, St. Paul, St. Louis Park, Eagan, Apple Valley, Farmington/Lakeville, Burnsville, Bloomington, Chanhassen, Prior Lake/Savage, Shakopee, Jordan, New Prague, Montgomery, and Mankato. As we continue to expand and get more members in concentrated areas we will establish more drop locations.
If you would like to come to the farm to pick up produce we would love to have you here!
As an added benefit to picking up your produce we will allow you to pick any extra produce we have that week.
Want to see a map with all of our dropsites on it? Click on the map to zoom in. Addresses are approximate for all locations but within a block or two.
Tuesday Afternoon: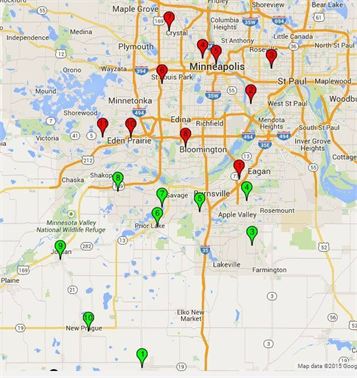 Eagan
Bloomington
Chanhassen
Minneapolis (Marquette Plaza)
North Minneapolis
St. Paul (Como Park)
St. Paul (Highland Park)
St. Louis Park
Eden Prairie
Farm Pickup
Wednesday Afternoon:
New Prague
Jordan
Shakopee
Prior Lake
Apple Valley
Farmington
Burnsville
Lonsdale
Farm Pickup
Saturday Morning:
Mankato Farmer's Market
Farm Pickup
My Minnesota Farmer Discounts are available by signing up early. Sign up before January 1st and save 4% on your share. No coupon code needed!
Some of the produce included in our baskets:
apples
green beans
radishes
tomatoes
peppers
sweet corn
brussel sprouts
pumpkins
winter squash
spinach
muskmelon
wax beans
zucchini
turnip
tomatillos
snap peas
potatoes
celery
head lettuce
collards
carrots
cucumbers
leaf lettuce
kale
kohlrabi
broccoli
cabbage
eggplant
garlic
onions
bok choi
bunching onions
summer squash
ornamental gourds
swiss chard
beets
dill
cilantro
basil
parsley
We grow many different varieties of produce but focus on the usual produce that people know how to use. As an added bit of fun we throw in about one or two new or unusual vegetables weekly so you can try something and possibly discover a new favorite.As an added benefit to our members we allow you to come over and pick our 'extras' for fresh eating or canning.In the spring, come enjoy our annual baby chick day in May. More information will be available as the date gets closer.