New Additions!
On March 7th Dexter had her first litter!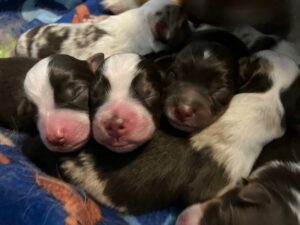 They are super sweet and all either red tri or red merle. Nothing like that sweet squeak of puppies in the house. Dexter had 4 red tri-colored puppies and 3 red merles. She is an awesome mother.
These puppies will be ready for their forever homes in May. We do our best to have them potty trained and some are even obeying the 'sit' command when we send them home. Lots of love goes into these dogs before they transfer to their new homes.
Surprise!!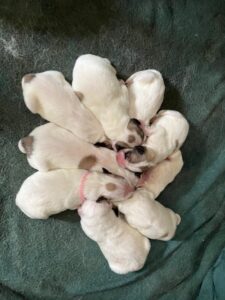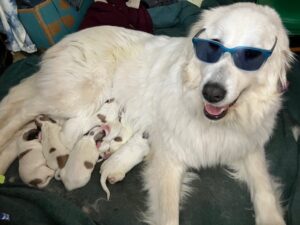 Also on March 7th, our adopted Great Pyrenees had 9 pups! Dutchess had 6 males and 3 females. They come out like little chunkers ready to eat and grow fast. The thing I love about Great Pyrenees is that they are sooooo mellow and AMAZING livestock guardian dogs or super docile family pets.
Our Parent Dogs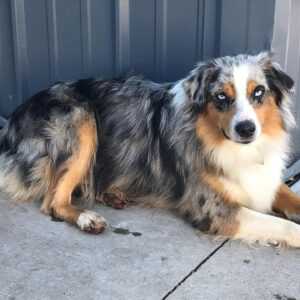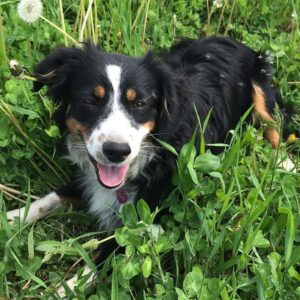 In early July of 2019, we brought home Diesel(left), a pure bred mini-Australian shepherd. He has since become a faithful canine companion, who enjoys herding cows and sheep, and playing with us. We found a mate for him in mid-January of 2020. Daisy (upper right) also a mini-Australian shepherd. She is a great mother and a sweet companion to all in our family.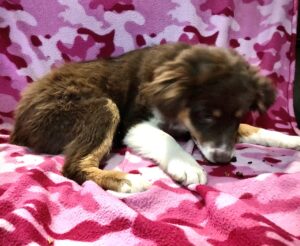 In early December of 2021, we found another mate for Diesel. Dexter (lower right) is the third pure bred mini-Australian shepherd we have. She is very playful and curious about everything around her. Diesel is allowed to mate with Daisy and Dexter as they come into heat. All three dogs are purebreds.
Daisy's coloring is described as black tri, and Dexter is a red tri, while Diesel is a blue merle. The black tri is the most common coloring for this breed, but there are four types of coloring: Black tri, red tri, blue merle, and red merle. 
Puppy pricing is $750 for a tri-colored mini Aussie and $1000 for a merle min Aussie. 
Pure Bred Great Pyrenees are $650 a puppy. 
Puppies will be very checked and vaccinated before going to their forever homes. 
The average litter size for a mini-Australian shepherd is between five and nine puppies. The puppies are very quickly sold, so give me, Jean Braatz, a call, 612-245-6271, or an email [email protected] to be on a wait list. You can also reserve a puppy on our webstore at www.mymnfarmer.com/barn2door.