December 16, 2019
As a gift to you this season we have multiple offerings for delivery Thursday, Dec 19th including a Christmas Meat Basket for you or for that person who has everything! 
Gift Certificates are also available for any denomination. Email, call or text me for info. Plus check out our regular offerings below including meat, granola and new treats in a jar. 🙂
New

'Treats in a Jar' Gifts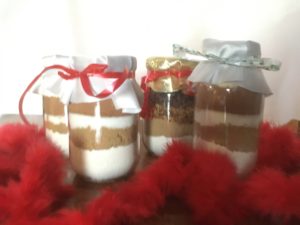 1 Quart Jar                     $9
Varieties:
     Peanut Butter Chocolate Cookies
     Granola Cookies (with Jean's Granola)
     Apple Cranberry Coconut Chip Muffins
Granola      
Oatmeal Varieties           $7
          Chocolate Peanut Butter
          Apple Cinnamon
          Sweet Cinnamon
         Cinnamon Raisin
Paleo GF Granola         $10
         Cashew Crunch 
Christmas Meat Basket Includes:
1 package of tenderloin

1 whole chicken

1 package of 8 hamburger patties 

3 lbs ground burger in 1 lb packages

2 packages of pork chops (2 chops in each package)

1 ham

1 package bacon

This is a showcase of our favorite meats. The total for this package is $110. 
Rabbit – $3.50/lb average 3 lbs                     $10-15
Chicken – Whole or Cut                                 $15 each
Eggs                                                               $3.50 a dozen
Granola – also great hostess gift                                                         
Coconut Craisin                                   $7
Raisin Cinnamon                                 $7
Sweet Cinnamon                                  $7

Apple Cinnamon                                  $7

Chocolate Peanut butter                     $7
Cashew Crunch                                    $10

 
1/12th Beef – 30 lbs mixed beef                     $195
Hamburger Share – 20 lbs                              $130
Pork Share – 35 lbs                                         $150
1/2 Lamb – 27 lbs                                           $200
Let us know what you need and we will deliver it to your door. You can order via email, our web-store will schedule it to be delivered in June so don't go through there. 
Orders over $100 get delivered for free. $5 delivery fee for orders less than $100. 
For those of you in Mankato, we will get your things to you on Saturday the 21st at the Farmer's Market. 
Thank you so much for supporting our family! Your support helps our family run through the winter months! 
We pray you have a very blessed Christmas! 
Dean, Jean and the family
October 18, 2019
Thank you all for a wonderful season. Thanks for supporting us through crazy weather and letting us provide farm fresh produce for you.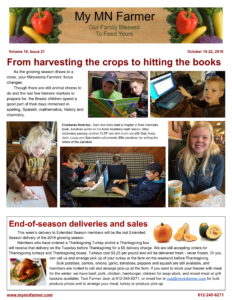 With Fall here, the farm work is switching from harvesting and washing produce to putting fields to bed for the winter. That process includes mowing the plants down, taking the tomato trellis down, tilling the fields, and adding fertilizer for next year.
Another thing we are working on is planting garlic. Garlic is planted in the Fall, it overwinters in the ground and then it sprouts when it is ready.
There is still plenty of time to order a Thanksgiving box. Are you going to miss your weekly CSA box? Our winter shares will contain whatever is beautiful that we harvest from the garden in the fall. We know there will be onions, squash, carrots and potatoes. Some of the other items will probably be kale, beets and maybe some herbs, canned goods or greens. It depends on how cold it gets outside but we may be able to harvest some cold hardy things out of the field too. These shares will be delivered the Tuesday before Thanksgiving or can be picked up with your Thanksgiving bird from the farm. Put some tasty fresh veggies on your Thanksgiving dinner table. We would love to help you serve a delicious home-cooked meal! You can order at the store.
October 11, 2019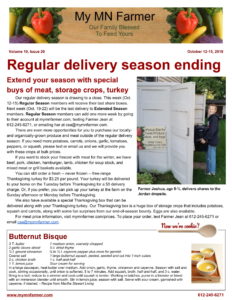 This is the last week for regular shares. If you want to get another week of farm fresh produce, you can order an extended share. To order, call or text me (Farmer Jean) at 612-245-6271 or go to our store. The store will not let you order anything on Tuesday, but on other days it will let you order. The deadline for ordering extended shares is Sunday, October 20.
Even if you don't want more produce, you can order meat. You can order chicken soup stock, beef, pork, chicken, hamburger, lamb, or a mixed meat basket. Visit our prices page for details on all our meat options. 
You can still order a fresh — never frozen — free-range Thanksgiving turkey for $3.25 per pound. Your turkey will be delivered to your home on the Tuesday before Thanksgiving for a $5 delivery charge. Or, if you prefer, you can pick up your turkey at the farm on the Sunday afternoon or Monday before Thanksgiving. Order yours at our store, or give me a text at 612-245-6271.
We also have available a special Thanksgiving box that can be
delivered along with your Thanksgiving turkey. Our Thanksgiving box is a huge box of storage crops that includes potatoes, squash and carrots, along with some fun surprises from our end-of-season bounty. Eggs are also available. Order yours at our store, or give me a text at 612-245-6271.
Also, gourds are not edible. They are for decoration, and since there are so many different shapes and colorings for the gourds, I think they make pretty Fall decorations.
October 6, 2019
Thanks so much for supporting our farming family. You are so appreciated!
End of season updates:
           Last biweekly shares are delivered Tuesday the 8th.
           Last regular season share are Tuesday the 15th.
           Extended season shares end Tuesday, October 22nd.
Need more of anything? Please let us know! We have potatoes, carrots, onions, garlic, tomatoes, peppers, squash, and other bulk (or not so bulk) produce for purchase.
Stock up on meat for this winter. We can deliver meat with your weekly goods. Need chicken soup stock, beef, pork, chicken, hamburger, lamb, or just need to fill your freezer with our favorites with a mixed meat basket? Let us know. We would love to get this to you. More info on our prices page or contact me by text (612-245-6271) or by email ([email protected]).
Thanks again for supporting us through another year. Enjoy your fall and please let us know if there is anything you need. Thanks for your referrals too!!!
October 4, 2019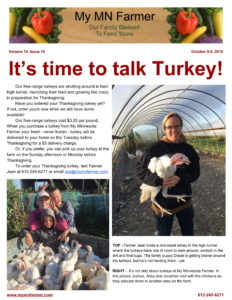 It even feels like fall now. We got pretty chilly here last night, so we'll have to check on the field when we go outside and see if anything has a frost on it. 
About a week ago, we put the ram with the lady sheep so we can have more baby lambs next spring. Farmer Dean tries to do everything in a certain way, so that he knows which sheep are supposed to have lambs and when they are supposed to give birth to those lambs. 
We almost have all the apples picked. Apples don't like really cold temperatures, so we have to pick them and put them in our cooler so that they stay nice.
September 27, 2019
This past week has been one round of excitement after another. Last Saturday, market went fairly well even with the rain, but afterwards the transit wouldn't start. So we had it towed, and it was a bit of an adventure to get all nine of our family home after market. A few days later, Farmer Dean was getting some of the pigs ready to be processed, and cracked one of his ribs.
Fall is officially here! The tomatoes and peppers are slowing down because of the cooler temperatures, but those cooler temperatures are helping the squash and pumpkins to ripen. As some crops slow down and others pick up, we may not have enough to give everyone some of a particular crop. So you may receive something that isn't listed in the newsletter.
More pigs went into the processor, so we have plenty of pork for sale. Order yours at our store.
Not sure what meat you like best? We have what we call a meat basket. It includes:
1 package of tenderloin

1 cut chicken

1 package of 8 hamburger patties

3 lbs ground burger in 1 lb packages

2 packages of pork chops (2 chops in each package)

1 ham

1 package bacon
This is a showcase of our favorite meats. The total for this package is $110. Order yours at the store
September 24, 2019

There are lots of turkeys still for sale! These delicious, tender and moist turkey hens are between 12-18 lbs, the toms between 18-25 lbs. A $25 deposit will reserve the bird for you, then $3.25/lb will be due at the time the bird is delivered. The deposit will pay for the first 7 2/3 lbs at $3.25 lb. These pasture-raised birds are almost as beautiful in the field as they are on the table. You can pick up your bird on the weekend before Thanksgiving or we can deliver it on Tuesday, Nov 26th for a $5 fee. They will be fresh, not frozen. Call me at 612-245-6271, or order at our store.
September 20, 2019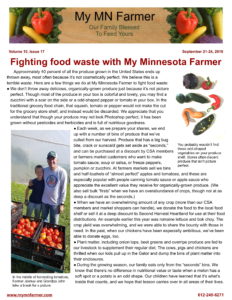 Pumpkins and squash are still ripening in our field, but some were ready, so yesterday we went out and picked those that were ready. Hopefully it won't get too cold before all the pumpkins and squash are ready.
We raised pork for the first time the summer of 2013 and I was sold the second I TASTED IT! Once you experience this amazing real pork it will be hard to ever go back. This is delicious. Enjoy a taste of real, humanely raised, pastured, country food. The mixed 1/4 hog is about 35-40 lbs and will contain approximately 8 lbs smoked ham, 5 lbs ground pork, 7 lbs pork chops, 4 lbs roasts, 4 lbs steaks, 4 lbs bacon and more. Ready in October. Order yours now at our store, because pork is available only for a limited time.
September 13, 2019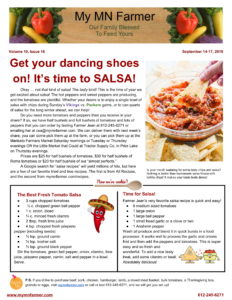 With all the rain we have gotten this past week, we almost have our own slip 'n slide out in the field. Knee high waterproof boots come in handy because some parts of our field are lower than others, so the water pools there. Which works great until we need to check the plants that are planted in those lower areas.
The bean plants have flowers on them and the spinach is growing, so if the weather stays warm, we should be able to put beans and spinach in your box at some point.
September 6, 2019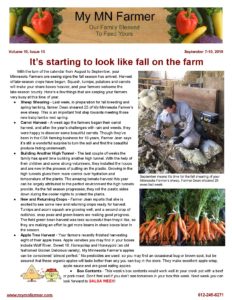 We have all the potatoes out of the ground. With getting them planted late and the crazy weather we had, they didn't produce very well. The carrots and onions did fairly well. Enjoy your fresh picked carrots this week. 🙂
Dean was able to shear all of our sheep, and we put the ram in with the ewes so we can have more baby lambs next spring.
Turkeys are available. Just give me a call (at 612-2456271), email me @ csa@mymnfarmer or go to our store. If you choose to order by the store, click on the 'add' button on the subscription line, and then you can order your turkey for November delivery.
August 30, 2019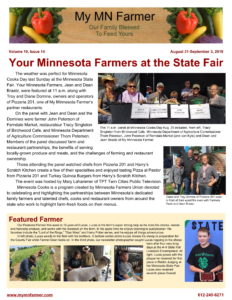 Everyone is back from the State Fair. Take a look at the newsletter to the right to read how it went. We are going to dig potatoes today, so maybe we can put some in your box soon. The carrots did really well this year. We picked some of them a few days ago, and found a lot of big beautiful carrots, so you should have some in your boxes the week of September 10.
The cooler weather has been super nice for people, but it does slow down how fast tomatoes ripen, so you can still order tomatoes, but you will be put on a waiting list until we have enough tomatoes for everyone.
Also, we have pork available. To order, either email or call me, and you can choose to pick up at your dropsite location or at our farm.
August 23, 2019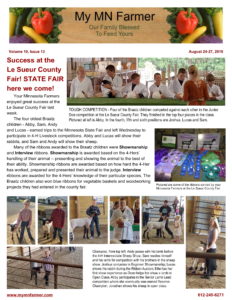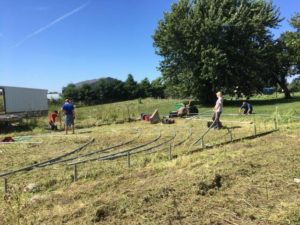 The Le Sueur County Fair went really well. All of the kids, including Ellie, showed at least one animal. Some kids showed multiple animals, projects, and a vegetable basket. It was a very busy week as we did the fair, pick and wash produce for market on Thursday and Saturday, care for animals, and starting to pick produce for shares that we pack on Monday. This week, we started putting up a hightunnel, processed chickens, and cleaned produce.

August 16, 2019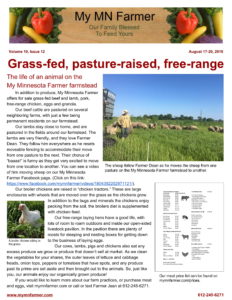 We have been super busy with harvesting and washing produce for shares and market, weeding, getting animals ready to be shown, brushing up on fun animal facts, and showing animals. The Le Sueur County Fair is this weekend, and most of our kids are showing animals. Some also have projects that they did a lot of research on, and put a lot of work into getting them ready for the fair. This is Joshua's first year not being a Cloverbud, so he gets to compete with other kids his age to see who knows the most about the animals they are showing. Jonny is a Cloverbud, so he is showing some animals, but just for practice. He isn't really competing with the other kids who are the right age to be Cloverbuds.
August 9, 2019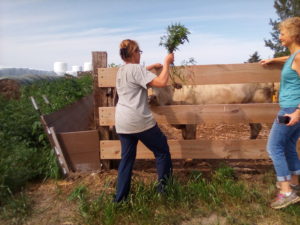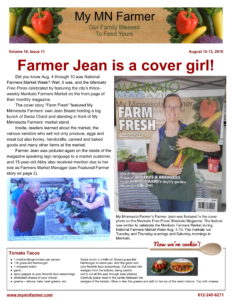 Anybody ready to can tomatoes? We have plenty for whoever wants some. Call, text or email for pricing information. The picture to the left is of me (Farmer Jean) feeding grass to the cows because they love green plants and we have plenty to feed them.
Also, a few more WWOOFers have joined us until the end of August.
August 2, 2019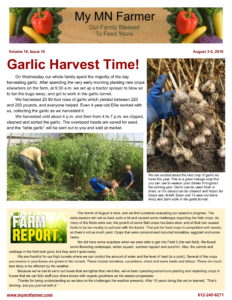 Happy August! It is almost time for the Le Sueur County Fair, so the kids have been really busy with training their animals and helping Farmer Dean and I get all the normal farm things done. Things such as harvesting produce, weeding, trellising, caring for animals, and packaging produce for you to enjoy.
All of our kids are back home from a week of camp up at Big Sandy Camp. Abby was also blessed with an opportunity to volunteer there for another week.
July 28, 2019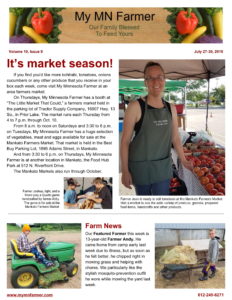 We've been really busy lately. The field dried enough for Dean to get out on a tractor and till the weeds. We picked the first two rows of onions and a dozen zucchini.
Also, we now have lots of chickens in our freezers for sale. Baby pumpkins are setting on, and with the dry weather, we are able to tackle the weeds to help all the squash and zucchini grow.
July 19, 2019
Here is a picture of sheep training and your newsletter.
July 12, 2019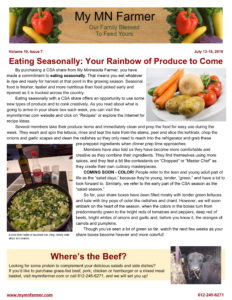 We just picked the first of the Anaheim peppers. The bell peppers aren't quite ready yet, but they are close. We are also picking about 20 tomatoes and 40 cucumbers per week.
It has been really rainy lately, so we haven't been able to get a tractor out into the field to help the plants grow better. Until it dries up enough that the tractor won't get stuck in the mud, we are doing as much as possible by hand.
July 6, 2019
We have a new addition to the family 🙂 Check out the newsletter for wiggly fun.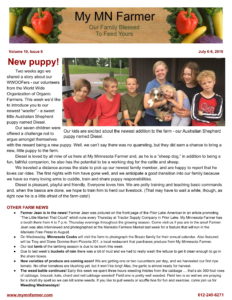 We picked the first of the cherry tomatoes – about a pint. The field crops are slowly coming – that is where your bok choy and romaine were picked this week. However with all the rain everything is very muddy. We have done an initial rinse, but make sure to wash your produce!
Also, for all of you who like garlic or haven't tried it, the garlic is almost ready to pick! I'm hoping to have some fun pictures of random things on our farm for you the next time I post an update.
June 28, 2019
Quick update for this week. Farm Party went great! Thank you so much for coming out.
Our cucumbers are slowly coming in, and the tomatoes are starting to change colors!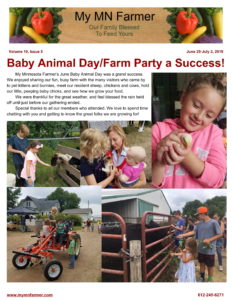 Keeping us busy is the constant battle against the weeds – all help would be welcome, just give me a call. Also the kids are working on training their animals for the fair. Lots of animals on halters going for a walk around the farm. The field produce is starting to be ready as the side crops in the tunnels are coming to an end.
June 22, 2019
Everyone is invited to Baby Animal Day/Farm Party on Sunday, June 23, 2-7p.m. at our farm.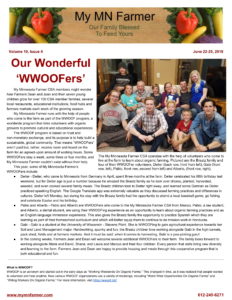 Our address is 35100 191st Ave., Montgomery MN. Come see how your produce is grown, tour the green house, visit the fields, pet baby animals, hand feed grass to cows and sheep, shop at our farm market, and enjoy free ice cream! Brick oven pizza made by Pizzeria 201 will be available for purchase.
This week's newsletter focuses on My Minnesota Farmers' very special helpers from the WWOOF program. The newsletter also contains your list of produce and a link to recipe ideas.
We hope to see you on Sunday!
June 18, 2019
Whole and cut chickens are now back in stock. We also have backs and necks which make great chicken soup. Chicken liver and hearts are available in 1lb bags.
Farm Party is right around the corner. Come out to our farm on June 23rd from 2pm to 7pm and see baby animals and our plants. We are also going to have Pizzeria 201 make pizzas that you can buy fresh from a brick oven and we will have free ice cream.
June 14, 2019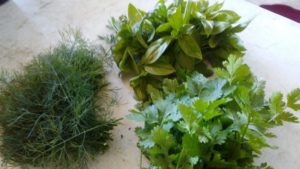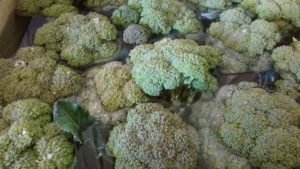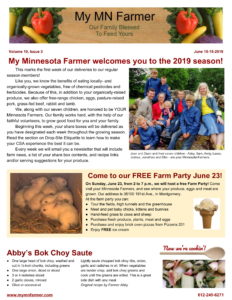 Welcome to our 2019 share season! To view our weekly newsletter, click on the picture to the right.
The cilantro, basil, dill, parsley, and broccoli are ready to be picked and eaten. The picture on the left is dill, basil, and cilantro(right, top, left). The picture on the right is broccoli in cold water. Some of our produce we put in cold water so that it stays fresh as long as possible.
June 7, 2019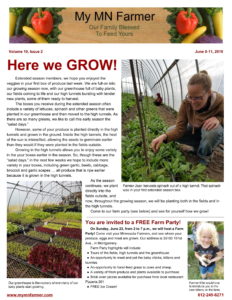 Tuesday and Thursday markets have started up again. Tuesday markets are on Tuesdays from 3:30pm to 6pm in the Best Buy parking lot in Mankato. Thursday markets are on Thursdays from 3:30pm to 6pm at 512 Riverfront drive in Mankato. We are still doing Saturday markets from 8am to noon in the Best Buy parking lot in Mankato.
We got a new pasture recently and we have been working on building a fence so that we can put animals out there to eat fresh green grass.
To view the newsletter, click on the picture on the right.
May 31, 2019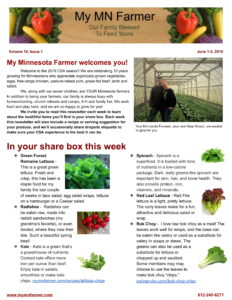 The first newsletter of extended season is ready. To view it, click on the picture to the left.
Farm Party went fairly well, but since I forgot to remind you and the weather wasn't great, we are planning to have another one on June 23rd.
With the strong winds lately, we had to cut the plastic over one of our hightunnels to keep the hightunnel from breaking. If the wind catches hold of a hightunnel's plastic, it can pull the hightunnel out of the ground and break it.
Our excitement lately has been that my nine-year-old, Joshua, stepped on a nail two days ago and it went through his shoe into his foot. He's doing pretty well though.
May 8, 2019
All onions and potatoes have been planted in the field along with some cool season crops such as broccoli and brussel sprouts. We are very happy that we got that done before the rain came.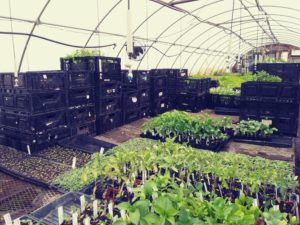 This morning, we rearranged the greenhouse to make room for new plantings of squash, pumpkins, gourds, kohlrabi, and zucchini. Also, we have our Twin Cities orders ready for delivery.
Farm Party is in 11 days! May 19 from 2pm to 7pm here at our farm. Come out for a farm tour and see calves and cows, chickens, bunnies, pigs, lambs and sheep, our hightunnels and the greenhouse.
May 6, 2019
The sun has been drying the field fairly well. We have been flying the onions into the ground since Saturday afternoon. So far, we have all the set onions and two types of seedlings planted. The seedlings we planted from seeds back in March, and now the field is ready for them to be transplanted. Hopefully, this afternoon we can use our water-wheel transplanter to get more plants out of the greenhouse.
Also, our piggies arrived a few days ago, so we will have them for Farm Party!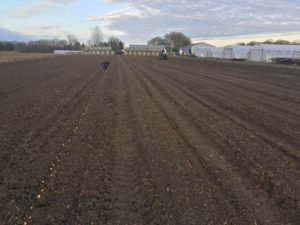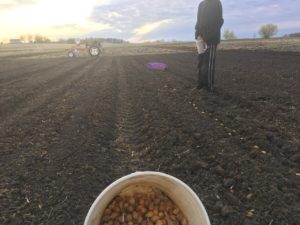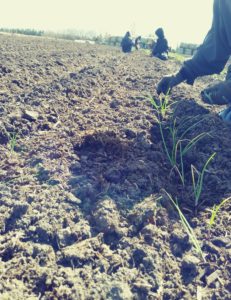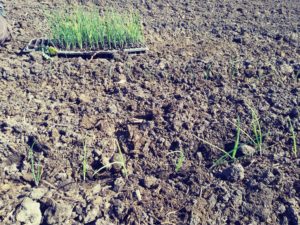 April 18, 2019

We planted Hightunnel 9 today! Red and green kohlrabi, various types of lettuce, spinach, and a few varieties of tomatoes made their way into the ground. The rain yesterday made things muddier than we would like, but hopefully it will dry quickly. Hightunnel 8 is tilled and ready to plant. I don't have a picture of the completely planted tunnel, but I'll try to get one soon.
April 9, 2019
Well, we have been so busy I haven't been able to update but now that there is a snowstorm I am sitting in the house!
I think it might be fun to hear how farmers get ready for a storm….
Check all the ropes on all 14 high tunnels to make sure the winds don't blow the covers off the tunnels.
Feed all of the animals as much as possible so when it is deep you don't have to carry hay bales too far.
Check for all tools or gloves children have left around the yard so that they are not buried.
Move all possible mommy sheep and lambs out of 'nursery building' so it is easier to feed them without bringing their hay halfway across the farm.
Bring lots of soil from the pallet bags we buy into the greenhouse where we can plant after the snow starts to fly.
Run to town to get diesel fuel so we can plow snow when it starts to pile up.
Then when the snow starts to fly we get to pay more for heating the greenhouse but we get to write updates on our webpage.
This former cheerleader/lifeguard is now a certified farmer. How do we know this? Yesterday when Dean was in town working on a roof, Andy, my 13-year-old, came into the greenhouse and told me, "Mom there is a sheep  in labor and she doesn't look too good." Just what I wanted to hear! UGH. I went into the sheep nursery and sure enough, there was a first-time ewe who had two little feet and a nose sticking out. Unfortunately, at that stage, there should be a nose or two legs sticking out. It was pretty stuck and the ewe was laying down. Didn't look good, Andy was right. I pulled the lamb out all by myself. I feel like a certified farmer now. That is all it takes right?
Signing off! We are drying apples and praying our farm stays in place. Pray for the health of our animals too. We have a cow that is almost ready to calf too. Go God.
March 28, 2019
The greenhouse is getting a lot greener. Peppers, microgreens, kohlrabi, lettuce, kale, onions, and various other plants have sprouted. Some are even ready to be transplanted into the ground, but the ground isn't quite ready for them yet. 🙂 It's a bit too muddy.
The Farm Party this year is May 19, 2pm to 7pm. We're hoping to have baby chicks, pigs, lambs, and calves.
Also, the end date for the discount codes is April 15.
March 13, 2019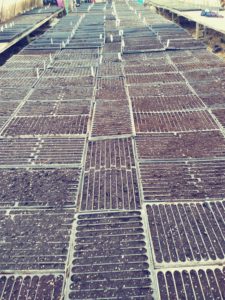 We have all the hightunnel tomatoes planted. Later, we will plant more tomatoes to sell as tomato plants. All the peppers, hightunnel and selling as plants, are planted.
Jonny's sheep hasn't lambed yet, but it's getting closer, and we have two cows that are due to have calves within the next two weeks!
The picture is of the front of the greenhouse. The back has a lot of water in it because of all the rain. The warmer temperatures are nice, but when it dips below freezing this weekend, we might have to use ice skates to get to the animals. 🙂
March 9, 2019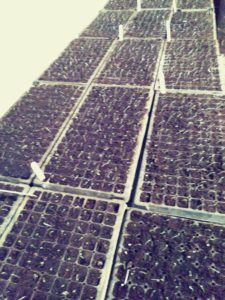 All three kinds of onions are planted! The very time consuming tiny seeds are finished!!! With the cold temperatures in February, we were behind schedule for planting seeds, but we spent two days hard at it and now we are caught back up!
The picture is of some of the flats of sprouted green romaine lettuce. These flats were planted in February before the cold weather.
We are up to 40 lambs now. It is a hopping and jumping lamb party out there. There are three sheep that have not lambed yet. The sheep Jonny bought at an auction with his scholarship money is still holding out on him. He is getting excited though. The fatter she gets the more he thinks she may have twins. 🙂 🙂
This year we have had 6 calves so far. Our cute twins are bottle fed. When a calf nurses from its mother, it gets more nutrients than if it is bottle fed, but if the mom can't feed them bottle feeding sure works. 🙂
March 6, 2019
Only two more weeks until it is officially Spring. In case you didn't know, last Saturday, when the discounts changed, so did the codes. Now you can get 3% discount on an order of $400 or more with the code 'eatingwell' or a 5% discount on an order of $600 or more with the code 'healthy1'.
February 27, 2019
Quick! On Saturday, the discount of 7% for a $600 or more order will drop to 5% for a $600 or more order, and the 5% discount for orders of $400 or more will drop to 3% discount. Here's the link to the store, or you can click on the store icon

 on the right.
Currently, we are up to 34 lambs, should be harvesting microgreens in about three weeks, and even have a few calves and baby chicks!
Unfortunately, during the really cold snap earlier this winter left some of the plastic on one of our hightunnels in shreds, but the rest of the hightunnel is okay. Hopefully it will warm up soon so we can replace the plastic.
February 18, 2019
Random early Spring update:
We planted seeds for the first time this year. Most of our mama sheep have had their lambs, but we're still waiting for a few more. Here are some pictures for you. My favorite is the third one. 🙂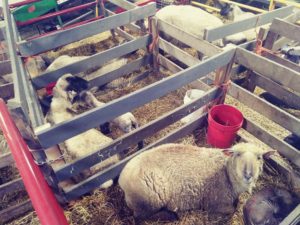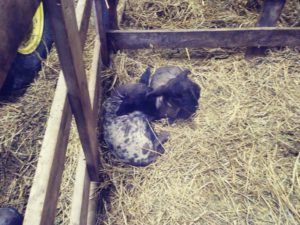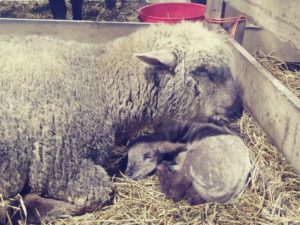 January 7, 2019
The weather has been so beautiful. Thank the Lord for the great calving weather, now all we need are the calves! 🙂 We have three mommy cows that are within days of calving. I will post pictures when they arrive.
The sad news on our farm is our amazing farmer Dean has separated his left arm bicep muscle. Farming is more complicated with a 10 lb weight limit in one arm. We are very blessed that this happened in the winter. This has changed Jean's winter a bit because I now get to feed 100 lbs of hay to the sheep twice a day. The sheep are fed in the morning and evening. It is actually quite fun throwing them the bails from on top of the haystack. I feel very loved when they get all excited when I come to visit them.
Part of the morning and evening chores includes the am and pm check of the farm. I get to see if the calves have presented their cute little faces, if the coyotes had visited the farm the night before and the general safety of all the livestock and farm workings. Then I get to come report to Dean who is determined to do all of the taxes for the two businesses before Abby and I leave for Honduras and lambing season begins. Thanks for supporting our farm and be sure to see the discounts we are offering.
January 1, 2019
Happy New Year! Did you know that if you have a favorite fruit or vegetable, you can tell us by email, call or text 612-245-6271, or in person, and we'll see about planting them for you to enjoy.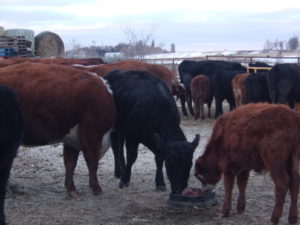 Exciting things for us right now are: two cows are ready to calve, our sheep will be due on the first of February, and we sold all our old chickens to make room for new ones.
Shares, meat, and granola are all available in the store.