High Tunnel Manager – Full Time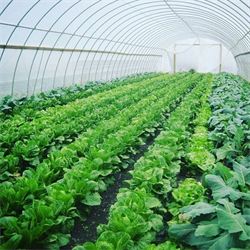 My Minnesota Farmer is looking for an energetic, motivated, and hard-working high tunnel manager to round out the 2019-20 farm team. Ideally, this is a minimum two-year position, with management responsibilities depending on previous experience. 1-2 years previous experience on a vegetable farm is desired. The position is from March through November with the possibility of winter work as available. Housing is a possibility. The position is an exempt, full-time managerial position. Previous experience is appreciated but we are teachers as well as farmers. This job is an educational experience. Pay is $10+ dollars an hour depending on housing needs. Also included are free farm veggies, eggs, and discounted meat.
Responsibilities:
Organization and management of greenhouse production, and all aspects of high tunnel production including transplanting, weeding, trellising, drip irrigation, harvesting, and record keeping associated with the above tasks.
Managing high tunnel harvest crew for quality and efficiency.
Limited tractor work and basic mechanical fixes
Post-harvest handling and packing of produce for CSA, retail, farmers market and wholesale accounts following food safety standards.
High tunnel management and succession planting, irrigation schedule and monitoring, harvest, pest and disease monitoring and controls.
Participate in field harvest and weeding crew as needed.
Crop and high tunnel weekly observation, either with Dean and Jean or on your own.
Qualifications:
My Minnesota Farmer is looking for managers-in-training that are self-motivated, organized, good communicators, and have an eye for efficiency and detail to help grow some of the highest quality, organic vegetables around! 1-2 years previous production farm experience is preferred, and this position is best suited for those seriously interested in farming as a profession. It is preferred that candidates have experience with growing in high tunnels. My MN Farmer is a production farm and we have high standards of efficiency and pace and expect you to be able to step up, move quickly, think ahead, and keep up. This will be a great place for people that want to work hard, learn the business of farming, and have fun in the process!
Employees must have a positive attitude, be physically fit and able to regularly lift 40+ lbs, be interested in working in community with other farm employees, and enjoy working outside in all types of weather and sometimes uncomfortable physical situations.
To Apply: E-mail a resume and cover letter to csa@mymnfarmer.com
Questions? E-mail or Call 612-245-6271 Thanks!