November 9, 2020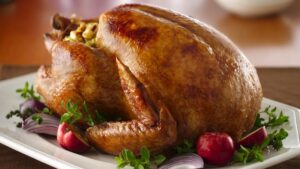 I have lots of turkeys available. We have half turkeys (10-12lbs), 16-18lbs turkeys, 20-22lbs turkeys, and 24-26lbs turkeys for sale. These weights are approximate, but we will do our best to get you a turkey in the size range you want. store
For those who want to pick up their turkey at our farm.  You may pick it up on or after 9:00 AM on Saturday the 21st. We will also be available by appointment Sunday afternoon and evening, and all day Monday. Please bring a cooler and money or credit info to our farm when you get your turkey to pay the remaining amount. We will also have eggs, other meat, and some produce available at that time.
If you would like your bird delivered we will deliver it to your home on Monday if you live in the Mankato area, or on Tuesday if you are in the metro. If you would prefer to have it delivered, there will be an additional $5 charge unless your order is $100 or more. We will leave a bird in your cooler at your house. We won't be leaving any coolers. You may either pay ahead of time by credit card, PayPal or Venmo, or leave a check or cash in your cooler. I will send out invoices with your turkey weight and payment, minus the deposit if this was paid, on Sunday evening. 
Please send me an email @ [email protected] letting me know how you would like to get your bird. If you are choosing to have your bird delivered to you, please confirm your address.
Also, orders of more than $100 will get to skip the delivery fee. Here is a list of additional products we have available.  store
Potatoes

Red or Russet, 5lbs    $7

Granola

Sweet Cinnamon    $7 bag
Coconut Crasin    $7 bag
Raisin Cinnamon    $7 bag
Chocolate Peanut butter    $7 bag
Cashew Crunsh ~ Paleao Granola    $10 bag

Hamburger
Beef shares
Pork shares

36lbs chops, ham, bacon, and more    $150

Chicken

Whole chickens    $15
Necks and backs, 5lbs    $5
October 16, 2020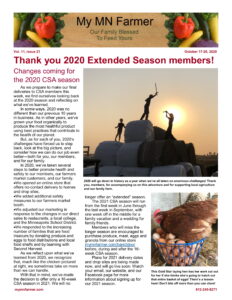 The final week of Extended Season. It's hard to believe we are through another season. Thank you soo much to everyone who supported our farm through all the craziness this year, and previous years. We love growing produce for you all, and you make that possible. 
For anyone who will miss getting their produce, take a look at our store, and see what we have available. Right now I have a lot of hamburger for sale, but things often sell fairly quickly. 
Click on the picture of the newsletter to read about some of our plans for changes next summer.
October 9, 2020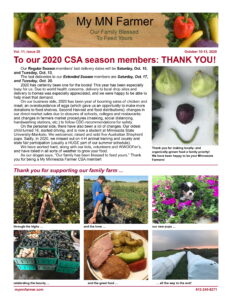 This is the last delivery for Regular Season Members. Extended Season shares will be the week after, either Sat Oct 17 or Tues Oct 20, depending on when you signed up to pick up your share. 
If you know you are going to miss your produce, take a look at our store to see what we have available. I try to keep it as updated as possible.
We have been discussing what we want to grow next year, and it seems there will be some changes. If you would like us to grow something, please send me an email at [email protected]
A huge thank you to everyone who supported us this year, and in previous years! We wouldn't be able to farm without all of you.
October 2, 2020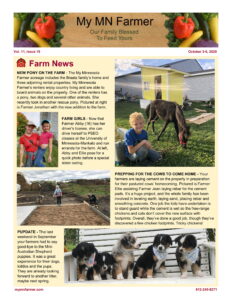 Not much new exciting things have happened this week. We are keeping busy with pouring cement, harvesting and cleaning produce, getting the field ready for winter, and even some school. 
School can be hard to find time for at this time of year. There is still so much stuff to do, but whenever we have time, my kids do as much school as possible, making sure it is done well. A few more weeks and we will be able to focus on schoolwork. 🙂
September 25, 2020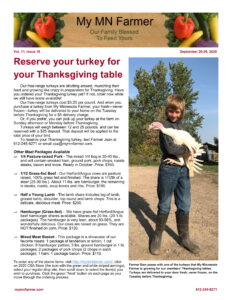 Happy Autumn! As we get later into the year, the list of produce in the newsletter becomes more of a guess. This is because many of our plants are done producing. Some plants such as eggplant and tomatillos prefer warmer weather, and other plants such as broccoli and cucumbers have a limited amount of time that they'll produce things for us. However, we try to stagger when we plant so that we have various things as long as possible. 
One thing that has been keeping us busy, is pouring cement. We are building a fairly large cement pad next to our animal pavilion so we can put silage on it. Last year, we made a pile of silage on the ground, but when it was scooped up to feed the cows, we'd end up with rocks in the cow feeder. This way, we won't have to shovel out the cow feeder.
September 18, 2020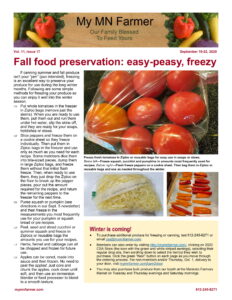 With the cooler weather at night around here, the produce isn't ripening as fast. We have some tomatoes, peppers, cucumbers, melons, and some other produce still for sale, but they may not be available for long. Order yours at our store.
Daisy's puppies are so cute. They're getting a lot bigger, they love to explore, and enjoy tell us about everything in noisy puppy squeals and barks. Only 2 more weeks or so before the puppies get to go to their new homes, and explore new places.
September 11, 2020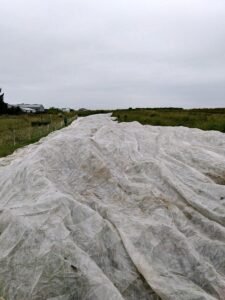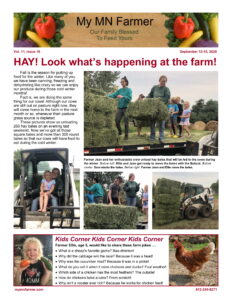 We made it through the cold snap earlier this week. The forecasted temperature was 37 ℉, but we usually assume that our farm will drop five degrees lower than the forecast. This can give us a bit of wiggle room so we're prepared for cold weather, but most of the time, a five degree drop is accurate. The picture to the right is of the row cover we put over our plants to keep them warmer. If you zoom in, you can spy some people spreading it out.
Not sure what to do with your produce? Here is a link to our recipes page, with lots of recipes for you to try.
September 4, 2020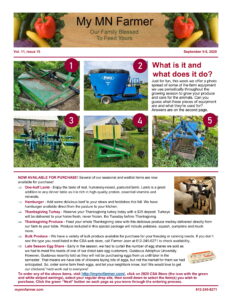 Wow, it's September already. The mornings are feeling a bit chilly around here. Yesterday, it was kind of funny, because all my kids decided to wear brightly colored sweatshirts. I don't know how they all decided to do that on the same day without talking to each other, but they did. 🙂 
Our puppies are getting cuter every day! They are walking now, and enjoy wrestling each other. We introduced them to the outdoors, where they spend most of the daytime in a shelter we made for them. Sometimes, we take a break from working to go snuggle the puppies. The biggest was 4.4lbs as of two days ago
Anybody making plans for Thanksgiving yet? We have turkeys for sale at our store, along with, hopefully, some produce will keep until November. We usually have potatoes, some onions, beets, various types of squash, pumpkins, and sometimes carrots and apples.
August 29, 2020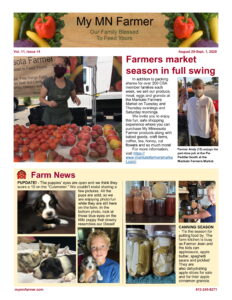 Oops, I'm a day late for posting the newsletter. I was pretty busy yesterday, with getting produce picked, washed, and ready for market, as well as making sure that my kids and our amazing WWOOFers know what they need to get done. Right now, we have five people here as WWOOFers. 
What is WWOOF? WWOOF is an acronym and started out in the early days as "Working Weekends On Organic Farms." This changed in time, as it was realized that people wanted to volunteer and host anytime. Now various WWOOF organizations use a variety of meanings, including "World Wide Opportunities On Organic Farms" and "Willing Workers On Organic Farms." For more information, visit https://wwoof.net/
August 21, 2020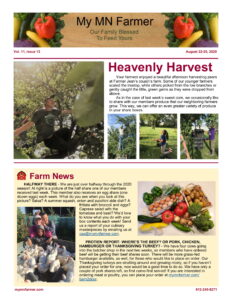 Not much super exciting things going on this week. Besides most of the apple trees being ready to pick, of course. 🙂 Another thing that is different from last week is that we are trying to pick the broccoli every day so that it doesn't get too done. 
We are about half way done with digging potatoes. Way to go Farmer Luke for keeping the potatoes weeded so that they'd produce better potatoes. One fun part about digging potatoes, is that our kids have a competition to see who can squish the most Colorado potato beetles while we dig. I think the record was around sixty one day.
August 13, 2020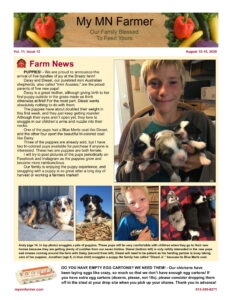 I have the newsletter ready a day early this week. 🙂 We've been pretty busy with digging potatoes, picking melons, squashes, pumpkins, zucchini, cucumbers, broccoli, tomatoes, onions, and lots of other produce. Our excitement this week, is that the peppers are producing well enough to send peppers to all our CSA members this week, barring any unforeseen circumstances. 
Another fun thing that has been happening during these past two weeks, is that our mosquito population is rapidly diminishing! We can be outside without sweatshirts and hoods now. Praise the Lord!
August 7, 2020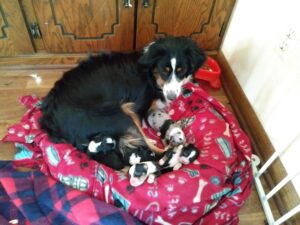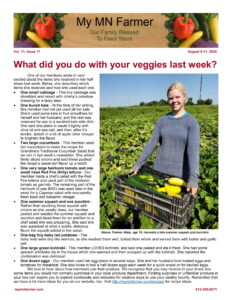 Daisy, one of our two mini Australian Shepherd farm dogs, gave birth to six adorable puppies Monday evening. Sadly, one of them did not make it, but the other five are super happy and wiggly. Daisy is trying to take good care of her puppies even though this is her first time as a mom, so she doesn't have much of an idea of what she's supposed to do. She's getting the hang of it though. 🙂 Diesel, our other mini Australian Shepherd farm dog, misses his buddy, Daisy, because she stays with the puppies inside, and he prefers to run around outside with us as we do farmwork.
July 31, 2020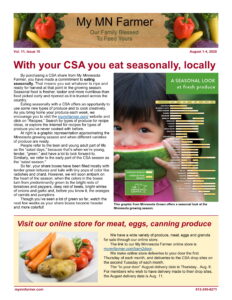 Now is the time to can and/or freeze produce for the winter. store We have plenty of summer squash, zucchini, tomatoes, cucumbers, kohlrabi, and other produce. We like to can tomatoes as tomato soup and tomato sauce for spaghetti. Summer squash and zucchini can be combined with tomatoes, onions, celery, garlic, spicy peppers, and eggplant to make delicious spaghetti sauce. Don't wait too long to process! The weather around here is pretty unpredictable, and chilly weather makes the plants stop producing. 
We also have new laying hens, so we can supply you with eggs. 🙂 store
July 24, 2020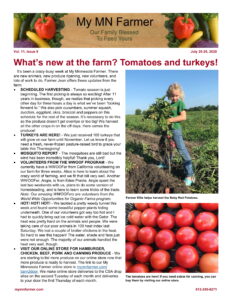 Wow, it's almost August. This year is flying by as we stay busy with our plants and animals. Each day, when we get outside, we know we have certain things that have to get done each day, and other things have to be done every other day. Bringing food and water to our animals has to be done every day, sometimes twice a day. Most of our plants we let grow for two to three days between picking the produce on them. 
You may want to look at your calendar, and decide on a time to can or freeze tomatoes. We're guessing we'll have a lot of canning tomatoes within two or three weeks from now. Don't wait too long to get tomatoes, though. Last year, a lot of people waited too long, and the weather turned too cold for tomatoes to ripen.
July 17, 2020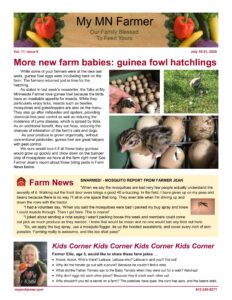 I have a bunch of pictures of coming produce for you. Along with the newsletter. We've had a pretty normal week this past week, but today, we're hoping to dig potatoes. First potatoes of the season, hopefully there'll be lots of them. 
Did you know okra looks kinda like Anaheim peppers? One main difference in how they look, is that the tips of the okra point up instead of down. The second picture below is of an okra plant.
Tomatoes should be coming out in boxes in a week or so. Different varieties have different flavors, just like with peppers.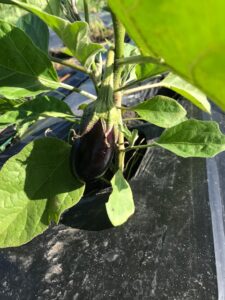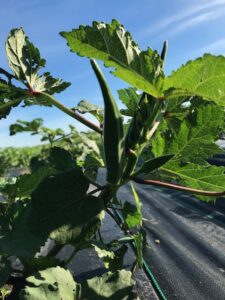 Baby eggplant,  and okra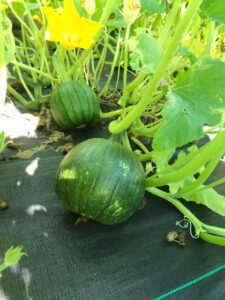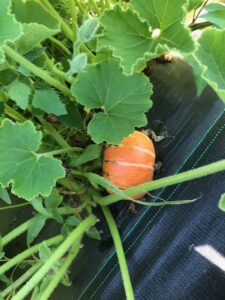 Our squashes are slowly getting big.  Green kabocha on the left, and red kabocha on the right.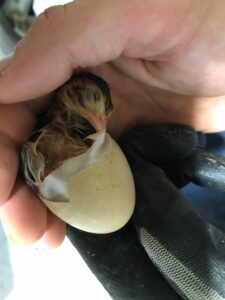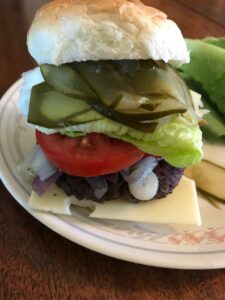 A guinea keet is hatching on the right    Need I even describe the one on the left? 🙂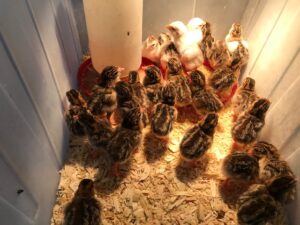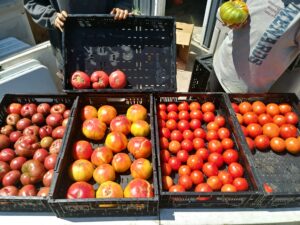 Our new flock of guinea keets. The tomatoes are coming in a little faster.
July 10, 2020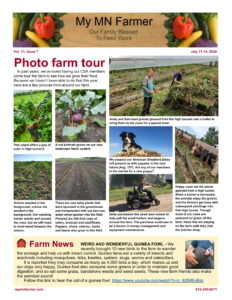 Wow, the mosquitoes have definitely hatched during this past week. We now have a lot of them, which means we pick produce with one hand, and slap mosquitoes with the other. One thing we do to avoid being eaten alive, is to wear loose pants, boots, and sweatshirts that have hoods. Rain gear can also come in handy. 
We hope you are enjoying your produce. Being able to bless many families with farm fresh produce each week in the summer is one of the highlights of farming.
July 3, 2020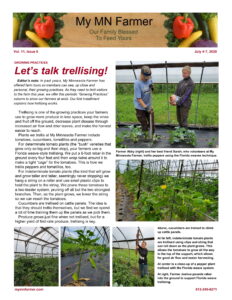 Happy 4th of July! A day early, but that's okay. 🙂 I hope you all are staying cool this week. We are trying to get everything in the tunnels done in the morning while it is cooler. Then we switch to either field work, or cleaning produce/prepping produce for markets or shares. This year, we have been using a heavy duty landscaping fabric between the rows of plants to keep the weeds down. We also discovered that it comes in handy when we get a lot of rain, because instead of slipping and sliding through mud, we get to slosh through puddles. The 5 inches of rain we got on Monday, was way more than we wanted, but the field is drying, and I don't think we lost many plants.
June 26, 2020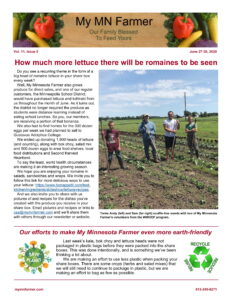 It has been nice to keep getting rain this past week. We don't have to be as concerned about the plants in the field not getting enough water. The one problem, is that rain often means mosquitoes. Slapping mosquitoes as we harvest, clean produce, and trellis plants, makes things a bit more tricky. Other bugs we are trying to stay on top of include cucumber beetles, Colorado potato beetles, squash bugs, and cut worms. 
We harvested more lettuce and bok choi yesterday to donate. The heat causes the lettuce and bok choi to go to flower, and when they do that, they taste bitter. So, we harvest them right before they go to flower, when they still taste sweet, and sell or donate them.
One thing we're not keeping up on is trellising tomatoes. Anybody who wants free trellising tomato lessons, can come out to our farm, and we'll teach you.
June 24, 2020
The newsletter isn't ready yet, but I have a bunch of pictures of our farm.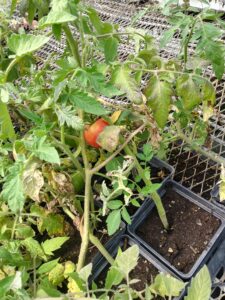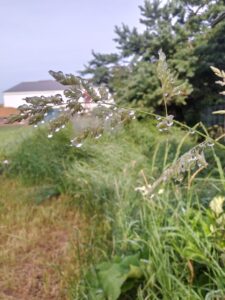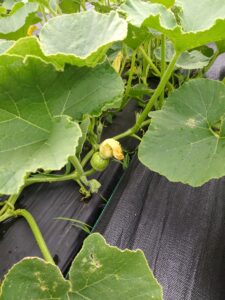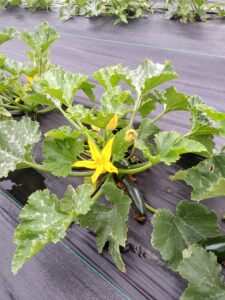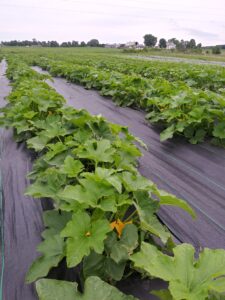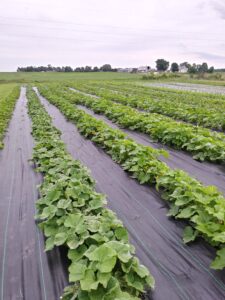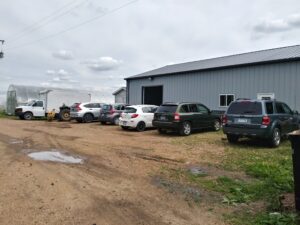 June 19, 2020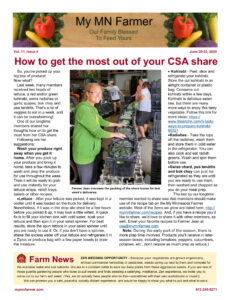 This week has been a variety of fun things, which are different each day. Our first big share-packing day of this year went well, but some of the produce was bigger than we thought it would be, so we had to substitute some things so we could fit the produce in the boxes. The reason for this, is we decide on the produce going in the shares on Wednesday each week, and we pick the produce for shares the following Monday. 
Another exciting thing is that our cucumbers and tomatoes are slowly coming in faster. The cucumbers are faster than the tomatoes, but that'll probably change soon 🙂  Did you know that if a tomato plant branch breaks off, you can put it in water for a few days and it will grow roots? Then you can plant it in the ground like a regular tomato plant. We do that sometimes as we trellis our tomato plants. 
Also, to view the newsletter, click on the picture above.
June 12, 2020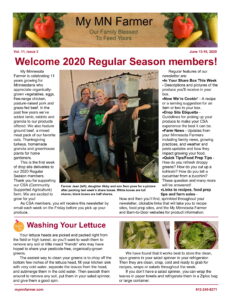 Welcome to our Regular Share season. We will provide everyone who ordered shares with produce each week. If you didn't order a share, you can order whatever you want from what we have available from our store.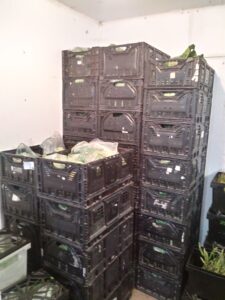 One thing to keep in mind this summer and fall, is that a lot of our produce is seasonal. The joy of eating seasonally is that the boxes will change throughout the summer. Lettuce, radishes, and spinach will slowly change to peppers, tomatoes, and cucumbers, which will also change to melons, pumpkins, and apples. 
Our excitement this past week, was prepping and delivering lettuce to Second Harvest. We were thrilled to find we had enough lettuce to feed 250 families. The picture to the right is the totes of lettuce in our cooler, waiting to be delivered.
June 6, 2020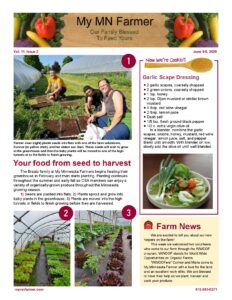 The second newsletter of the Extended Share Season is ready. This one features a recipe for garlic scape dressing and a note about egg shares. 
I hope you all are staying cool this week, and all the hot weeks yet to come. We are planning on splashing down a creek in a few days if we get our stuff done 🙂
The tomatoes, cucumbers, and peppers are slowly producing more and more. It will be a bit yet before we have enough for shares, but they are coming. The melons will taste really good when they come. We planted various types of melons in the field recently, so I guess we'll have to wait.
May 29, 2020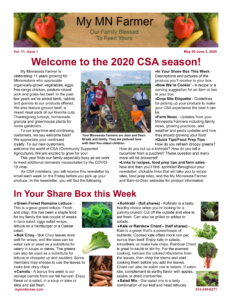 Welcome to the Extended Share Season. This is our first week of shares this season, and we are hoping everything goes amazing. 
I will post a newsletter about the following week's shares each Friday or Saturday. To view the newsletter, click on the clickable picture. I will try to get lots of pictures about our farm each week, but the newsletter one will send you to a new tab where you can read about the produce in your box. 
Our apples trees have baby apples on them 🙂
May 20, 2020
I have lots of pictures for you today. Extended season shares will be going out in a little less than two weeks from now. Not all of the produce in the pictures below may be ready for extended season or the first few weeks of regular season, but we will send it out when it is ready.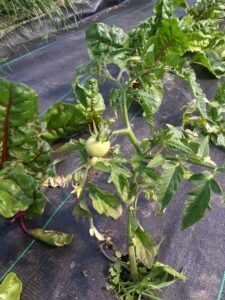 Baby cucumbers and tomatoes.
Kale, and happy sheep out on pasture.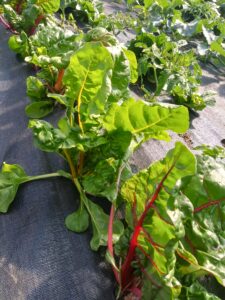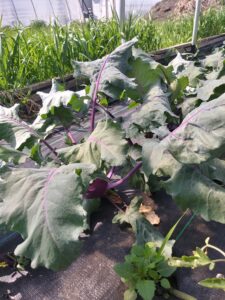 Chard and red kohlrabi.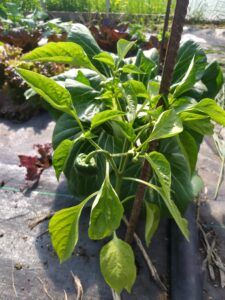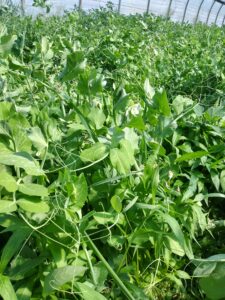 Baby peppers and flowering pea plants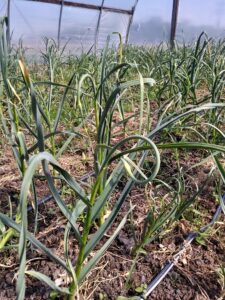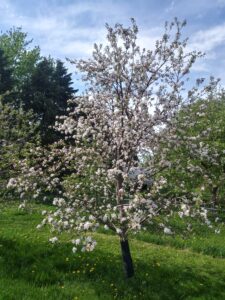 Garlic scapes are almost ready.  An apple tree covered in blossoms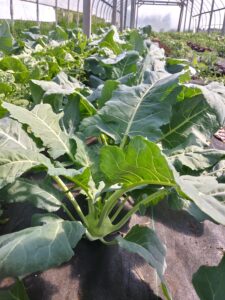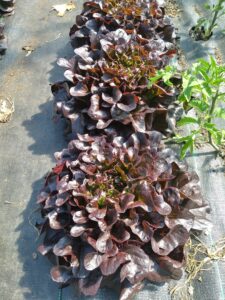 Green kohlrabi and red lettuces.
May 17, 2020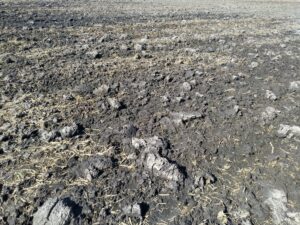 Hooray! It rained here this past weekend. We needed it so badly, but we got a bit more than we wanted. 🙂 We went from what felt like a drought to some plants getting flooded. Fortunately, our field can soak in a lot of water fairly quickly. Four and a half inches of rain takes a few days to soak in though. The picture is of part of the field. The lighter spots are dry dirt that has been exposed to wind, and the darker areas are mud. It's cool to see how the water flows through the field and hightunnels when we get that much rain.
April 25, 2020
We used our new paper-pot planter yesterday. I got some pictures of it, along with pictures of random other things on our farm. 🙂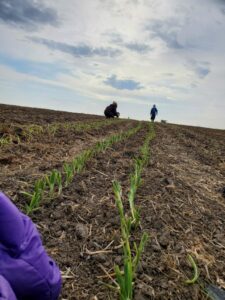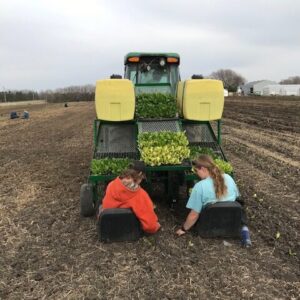 1st: Lots of onions in the ground.     2nd: Planting on the waterwheel.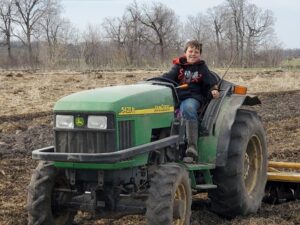 3rd: Our last bit of onions came with rubber bands around each bundle. We collect them as we plant as badges of honor 🙂      4th: Joshua tilling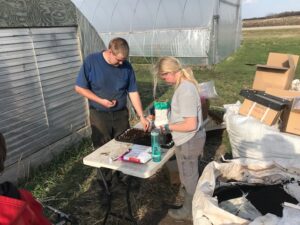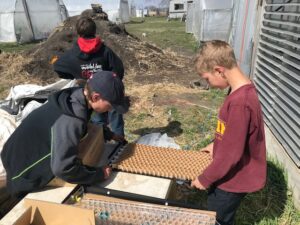 5th: Planting seeds with our new paper-pot planter.     6th: Stretching out the paper strips for seeds to go in. 
April 23, 2020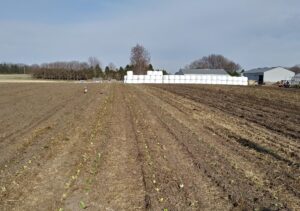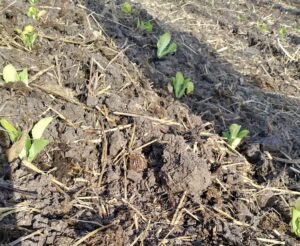 We have all the onions, potatoes, and some random other crops like kohlrabi, green romaine lettuces, chard, kale, cauliflower, and beets planted in the field. Three days ago, the field was completely empty, and now about half of it is tilled, and we have a lot of plants in the ground. 
April 3, 2020
If you need beef, ground pork, eggs, ham, or hamburger patties let us know. You can come out and get them. We are open to serve you at our open-air farm with all the goods you want. I'm slowly working on setting up an online preseason store but it seems to be coming along slowly thanks to the chickens, sheep, cows, plants, weeds, dogs, kids and just regular life. 🙂 
We will run a delivery with beef the week of April 20th. We should have eggs then too. 
We are keeping all of our customers in mind as we are going through this very odd time. Thanks for supporting us as we are busy getting things ready for you. Blessings!!
April 1, 2020
I am so sorry I haven't updated our site recently. We have been so busy through this crazy time. We have been doing all we can to deliver healthy, fresh meat and eggs to those in need. 
After running five deliveries in the last two weeks we are taking this week to allow people to pick up meat and eggs at the farm. We have scheduled 5 more cows at the processor, the first two will come back mid-April. We have 1/2 beef left. Let us know if you need any beef, in April or May. Thanks for supporting our farm. I feel like we can get through this together. I pray for great happiness and health for you all! 
March 18, 2020
Dean is out on the delivery today. We are so happy to be getting good food to you and your families! We had so many orders we are doing the second half of the list on Friday. Thanks for understanding!
We are currently planning another delivery next Wednesday also. As long as we have food we are happy to bless others with it. That being said we are sold out of numerous items. 
Bacon
Chicken
Beef Roasts 
Egg Cases We are out of the cardboard flats and boxes and aren't planning on ordering more now so we will only be selling dozens. We are getting 50 dozen eggs a day but they are being sold fairly quickly.
Please send me an email with your order and we will put you on our delivery list or let me know and you can come pick up.

[email protected]
March 5, 2020
Next delivery Wednesday March 18th! 
On sale: $15 off 1/12th grass-fed beef shares $10 off pork shares and a Buy More, Save More Sale. 
Spend $250 save $20
Spend $500 save $50
Shoot me an email or give me a call if any of this naturally grown food needs to find its way onto your table. Thanks for supporting our family!
Delivery details and order instructions found below pricelist.  
| | | |
| --- | --- | --- |
| Mixed Meat | Our favorite cuts of beef, pork and chicken | $110 |
| 1/12th Grass-fed Beef | 30 lbs steaks, roasts and hamburger | $180 Sale |
| Steak Pack | 15 lbs of hereford -angus grass fed beef steaks | $120 New |
| Grill and Crock Pot Share | Hamburger patties and roasts | $120 |
| 10 Lbs Hamburger | Grass fed  1 lb packages | $60 |
| 20 Lbs Hamburger | Grass fed 1 lb packages | $120 |
| 1/4 Pork | 37 lbs roasts, chops, ground, ham and amazing bacon | $150 |
| Rabbit  | Average 4 lbs, young and tender | $3.50 lb |
| Cut Chicken | boneless, skinless breasts, wing and legs and thighs | $15 |
| Whole Chicken | Cleaned and ready to go | $15 |
| Eggs | Farm fresh, free range, big brown eggs | $4 or 2 for $7 |
| Coconut Craisin | homemade and super delicious | $7 |
| Apple Cinnamon | Apples dried from our organic trees | $7 |
| Raisin Cinnamon | Like an oatmeal cookie | $7 |
| Chocolate Peanut Butter Granola | No explanation needed. YUM!  | $7 |
| Sweet Cinnamon | Great as is or ready to add fruit or nuts | $7 |
| Cashew Crunch | Cashews and coconut toasted in maple syrup addicting, deliciousness | $10 |
| 1/2 Turkey Average 16 lbs | So amazingly delicious | $3 a lb |
| 5 lb Bag Onions | mix of yellow and red | $5 |
On Wednesday the 18th we will deliver your meat to your door. If you aren't going to be home, no problem! You put a cooler on your stoop with a check in it. We then come to your house and switch the check for the meat. You can also prepay by cc or paypal. 
To order please call, text or email me, Jean, with your order and address. You can copy the chart above and highlight or bold the items you want.  We will then send you an invoice that you then proofread your address and order and we are all set. 
Free delivery for order $100 or more. Just $5 delivery fee for less than $100. 
Thanks for supporting or family farm! 
Jean 612-245-6271 [email protected]
February 28, 2020
Hope you had a wonderful CSA day! Don't forget there is still time to sign up for this season if you want to gift yourself with healthy food weekly. 🙂 
Our plants are sprouted and it is so wonderful to see green again! We also saw our first mosquito in the greenhouse! Really!?!?! Dean killed it, hoping it was alone and didn't hatch with a bunch of friends. 
Have a blessed weekend! 
February 18, 2020
Hello faithful CSA friends. We are now planting and are anxiously awaiting how many wonderful families we get to grow for this year! We strive to get you amazing, healthy, organically grown produce fresh to your table. Our boxes consist of a variety of what is ripest and best at each week of the season. We give you more than the value of the box each week and you get a free newsletter with farm news and recipes each week.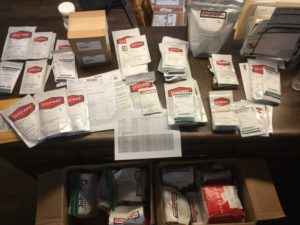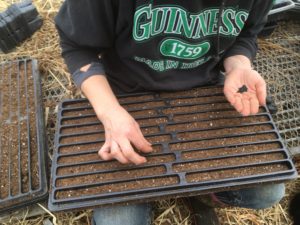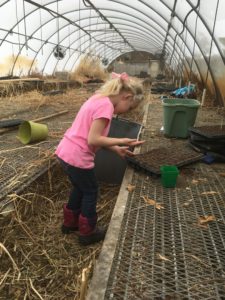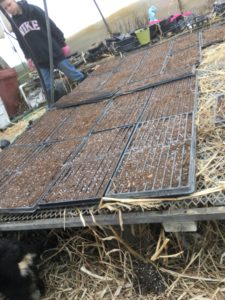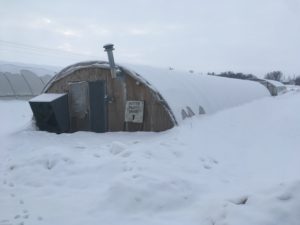 February 15, 2020
The date is set!!!! Baby Animal Day will be held on May 17th from 2:00 to 6:00. The Pizzeria is scheduled to bring their awesome brick oven pizza and local ingredients. We are so excited. Lambs, piglets, chicks, calves, cows that eat out of your hands, farm tours and lots of wonderful fun!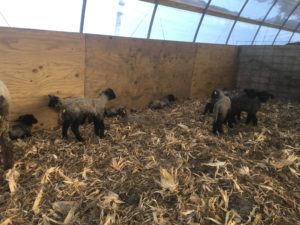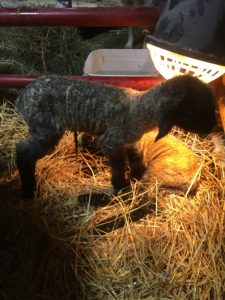 February 1, 2020
Wow a whole month of 2020 is gone already and we have lots of cute little lambs here!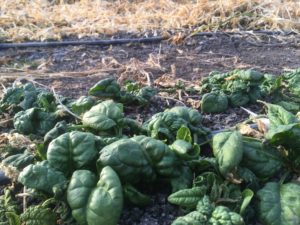 January 27,2020
Our first lambs are here. Yay for super cuteness!
January 10, 2020
Despite the weather, the calves are doing great. We are so happy the moms are taking good care of them and they are all snuggled up!
January 1, 2020
Happy New Year!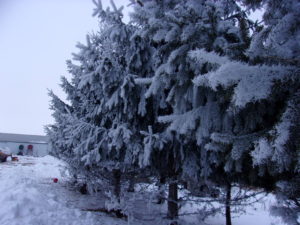 Even in the winter time, we stay busy. Lately, we've been building a hightunnel for the sheep to have their lambs in a warm place this next spring, moving the cows around in their pens so they stay happy, and doing school.
January is the month in which we order seeds for the upcoming season. If there are any fruits or vegetables you'd like us to grow, please let me know by sending me (Farmer Jean) a text at 612-245-6271 or an email @ [email protected]