November 30, 2018
Next year's share signups are ready. This year, if you spend $400 or more, you can type in the code: 'eat4health' and you will receive a 5% off discount. If you spend $600 or more, you can type in the code: 'healthsuperstar' and you will receive and 7% off discount.
November 26, 2018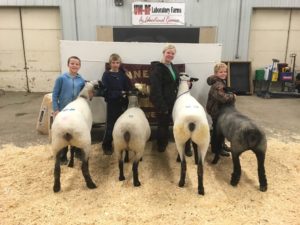 Last week Abby and Jonny each won a scholarship to purchase some Hampshire sheep, so Dean took Abby, Sam, Joshua, and Jonny to a sheep auction last Saturday, where each of the kids bought a sheep.
Hopefully, everybody that bought a farm fresh turkey from us enjoyed them! We planted all the garlic into the ground just before Thanksgiving 🙂 If you have pictures of your family/turkey/feast, you can send it to me at [email protected] and I will add to the turkey hall of fame.
November 1, 2018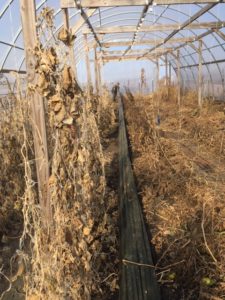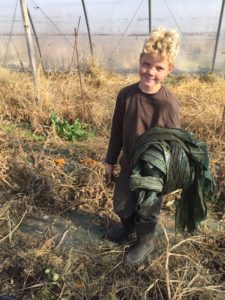 Happy November! We are still busy even though we aren't packing your shares. The past few days have been filled with school and disassembling the trellising in our hightunnels . Here are some pictures for you.
Soon we will be planting garlic in one of our hightunnels for next year!
Want more squash and other storage crops? You can order a winter share at our store. If you have any questions, send me a text at 612-245-6271.
October 12, 2018
1st: Celebrating the end of potato harvest.  2nd: Late bok choy!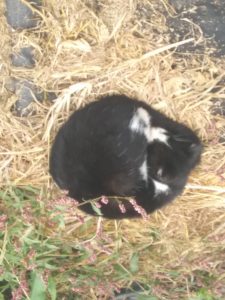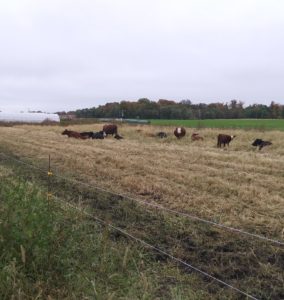 3rd: A kitty snuggling itself in one of our warm hightunnels. 4th: Our cows in their new pasture.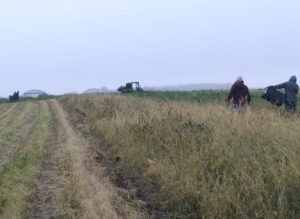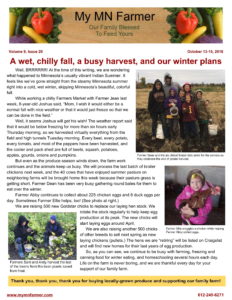 The final boxes of our CSA share season. We have been hurriedly harvesting all that we can out of the field and hightunnels before the nights get too cold and the plants and produce freezes. If you already know that you're going to miss your weekly produce, eggs, and chickens, you can order at our store. Stocking up for winter? We have pork, beef, lamb, chicken, and rabbit meat in our freezer.
October 5, 2018
Last week of regular season! If you have ordered an extended season box, you have one more week after this week. If you haven't ordered one yet and would like to, visit our store. It isn't too late!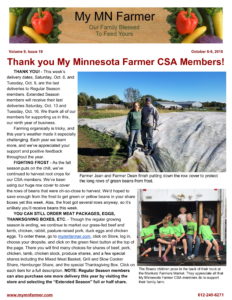 With the cold nights lately, some of our field crops were frosted, and won't make any more fruit. Fortunately for us, when we get frosted like this, our weeds also die. The bonus of the week is that we dug our second patch of potatoes and found a few hundred pounds of potatoes!
In addition to what we normally have going on during the week, some Minneapolis school kids came out to our farm for a farm tour. They got to learn about and pet chickens, rabbits, kittens, sheep, cows, and pigs. After enjoying a hay wagon ride, they were helping us get one of our hightunnels ready to plant garlic in.
October 3, 2018
Are you going to miss your weekly CSA box? Our winter shares will contain whatever is beautiful that we harvest from the garden in the fall. We know there will be onions, squash, pumpkins, beets, and potatoes. Some of the other items will probably be kale, carrots, and maybe some herbs. It depends on how cold it gets outside but we may be able to harvest some cold hardy things out of the field too. These shares will be delivered the Tuesday before Thanksgiving or can be picked up with your Thanksgiving bird from the farm. Put some tasty fresh veggies on your Thanksgiving dinner table. We would love to help you serve a delicious home-cooked meal!
Also, if you'd like some farm fresh meat (that is frozen 🙂 ), we have chicken, beef, pork, and lamb for sale. Our meat basket contains beef, pork, and chicken cuts. Visit our prices page for more info. To order, visit our store.
September 27, 2018
Update: The newsletter is ready!
A bunch of photos for you from different days this last week. The newsletter isn't quite ready yet, but I will post it when it is. Some exciting things that happened this week, were picking gourds, carrots, more pumpkins and squash, and getting many hay-bales for the winter.
September 21, 2018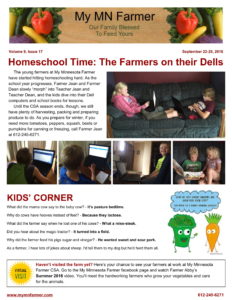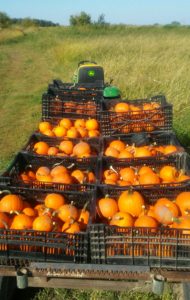 Some days we pick pumpkins in fair weather, and other days, the produce is washed by rain while we are picking it. 🙂  We have most of the squash and pumpkins out of the field and up to the packshed! Today's project list has been market prep and packing Saturday shares. The produce in your box this week may not match what is in the newsletter.
The picture on the left is only some of the pumpkins that we grew this year. Our pumpkins, acorn squash, butternut squash, and kabocha squash have been really plentiful this year!
September 13, 2018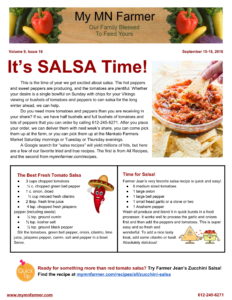 Wow, this summer has flown by so quickly! Don't let the last bit of extra summer goodies pass by you without a taste.  Apples, cucumbers, tomatoes, and peppers are some of the delicious crops we grow. You can purchase produce from us in one of three ways: Come to one of our Mankato Farmers Markets (on Tuesday afternoon, Thursday afternoon, and Saturday morning), visit our farm and have a farm tour if you want one, or go to our store and order what you want.
September 8, 2018
Random life at our farm during the last couple of weeks.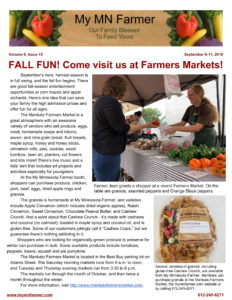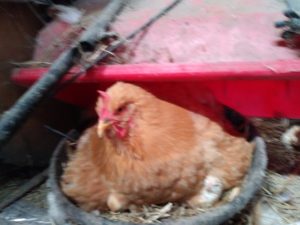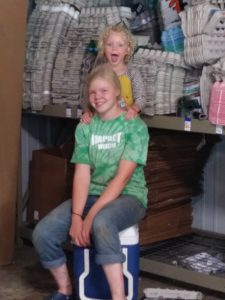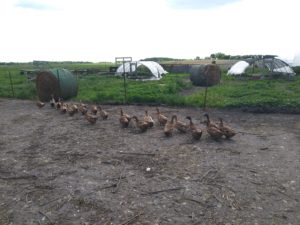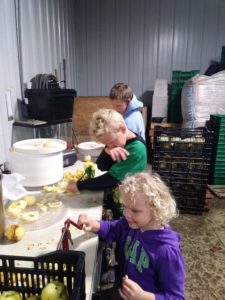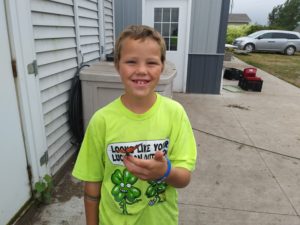 August 31, 2018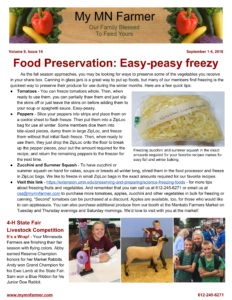 Anybody want tomatoes or apples? With the beautiful weather lately, our plants have produced a lot of fruit. I have canned 40 quarts of applesauce, 36 quarts of tomato soup, and I have three more stock pots of tomato soup cooking. Tote after tote of apples has been sorted into perfect apples and need to process apples. The need to process apples are cut and dried to store for whenever I need them.  If you want produce to can, freeze, or eat fresh, you can purchase it from us in one of three ways: Come to one of our Mankato Farmers Markets (on Tuesday afternoon, Thursday afternoon, and Saturday morning), visit our farm and have a farm tour if you want one, or go to our store and order what you want.
August 29, 2018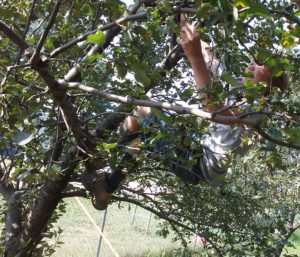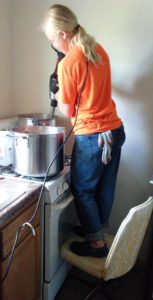 Apple picking time! In multiple places on our farm, we have apple trees, so when this time of the year rolls around, tote after tote of delicious apples make their way into the cooler. Some of these apples are dried into Apple Rings or apple pieces for Apple Cinnamon Granola, and other apples are cooked down into applesauce. In case you can't tell, Lucas is in the tree picking apples and Abby is processing cooked apples into applesauce.
Also, Apple Cinnamon Granola is back in stock, click here to order some.
August 24, 2018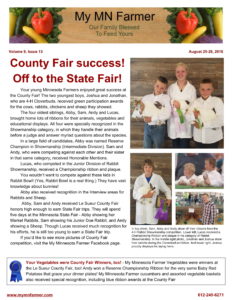 This week has been crazy busy. Dean, Abby, Sam, and Andy had to get their animals ready for the State Fair on Wednesday, which is when they left for the State Fair. It has been different without them around; we have animals to take care of that they normally do, along with working harder and faster to get as much work done in the same amount of time. This is Sam's and Andy's first time being old enough to bring 4-H animals to the State Fair. I am going up today to watch my kids show their animals in their different classes. For the Le Sueur County Fair, the kids were allowed to bring multiple types of animals, but for the State Fair, they are only allowed one animal each.
August 22, 2018
We have a lot of different types of meat for sale: beef, chicken, pork, meat baskets, lamb, and rabbit. Beef is split into multiple types of shares, 1/12 of a beef, hamburgers, and grill and slow cooker packs. Chicken comes in three different packages: cut chicken, whole chicken, and chicken backs and necks—which make great chicken stock. Meat baskets contain some beef, chicken, and pork. To order beef, chicken, meat baskets, and rabbit, simply login to our store, and click on the store button above the summary, and add what you want. To order lamb or pork, login to our store, click on the 'add' button next to 'Subscription' in the Summary section on the right, and add what you want. If you have any questions or comments, call or text me at 612‑245‑6271.
August 17, 2018

Great job at the Le Sueur County Fair, kids! Abby won champion on her intermediate rabbit interview and reserve champion on her intermediate rabbit showmanship.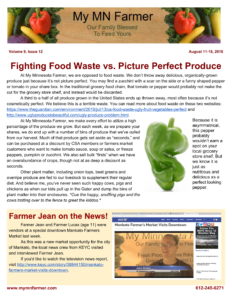 Sam and Andy received honorable mentions for showmanship in their division, and Luke won showmanship for his division. Another exciting thing this week, is that Farmer Jean made TV news! Click on the newsletter to find a link to watch her.
August 10, 2018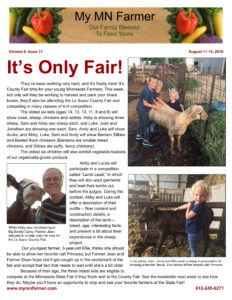 Fair time! Our six oldest kids will be showing cows, sheep, chickens, ducks, rabbits, and vegetable baskets at the Le Sueur County Fair. If Abby, Sam, and Andy do well enough at the County Fair, they are eligible to go to the State Fair. The other four kids aren't old enough yet.
Also, if anyone is looking to buy farm fresh tomatoes, we have lots of tomatoes that you can purchase in bulk. Just click here or on the store icon on the right, and make your order, which can be dropped off with your CSA share.
August 3, 2018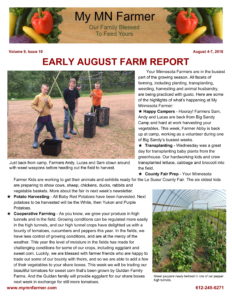 We have been working very hard on training our cows. With one of our family members still gone, we have been filling in and helping out with each others' chores. Our animals are getting to be pretty friendly and hopefully growing bigger muscles, too. Walking cows, pushing on sheep, and running the sheep around on treadmills, is fun and uses a lot of our time.
July 27, 2018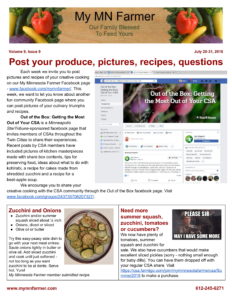 Wow, we have been super busy this week! With three of our kids at Big Sandy Camp for the week, and lots of plants that need to be picked and/or weeded, it has been a pretty crazy. But, as we lean on the Lord's strength, we make it through even the hardest days. If you don't know what to do with your produce, visit our recipe page
July 19, 2018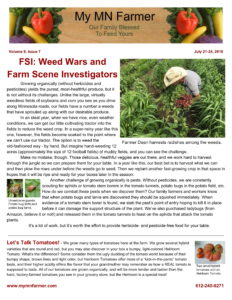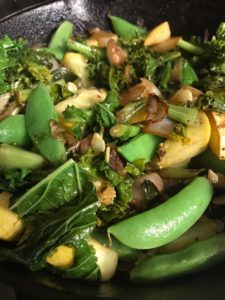 Quick update, we now have plenty of summer squash and zucchini for sale. We also have cucumbers that would make excellent sliced pickles (sorry nothing small enough for baby dills). You can have them dropped off with your regular CSA share. Click here to make a purchase. Also, I found a link to a bunch of funny chicken and egg jokes.
July 18, 2018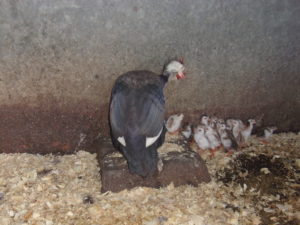 It has been so hot around here. Some of our animals can't stand the heat, so they die and we do our best to cool the others off. One exciting thing lately is that one of our guinea hens hatched its eggs.
This week has been a ton of harvesting, trellising, and weeding. We are trying an experiment with trellising cucumbers. Some of you might know that we clip trellis some tomatoes, this year we are trying to clip trellis cucumbers. Come out to our farm to see how it is done. Prayers for endurance are more than welcome!
July 14, 2018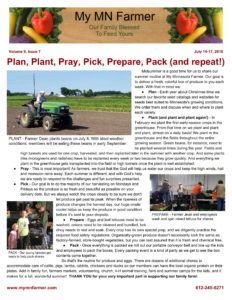 Not much new happening this week. Summer squash and zucchini are producing so fast that they need to be harvested every couple of days.  Unfortunately, the mosquitoes are super thick this year, so when we pick crops, especially in some of the hightunnels, some of the kids wrap a sweatshirt around their heads to not be eaten alive as badly. It works, as long as we get enough water. Also, we could use prayer for the animals and us on these super hot days, they are hard on everything and everyone.
July 6, 2018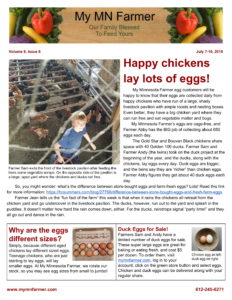 300 more free range chickens were added to our farm yesterday. We went to a different farm, and saw lots of different types of chickens. If you want to see them, come on out to our farm.
Many of you know that we sell fruits, vegetables, meat, and eggs, but did you know that we also sell different types of granola? You can purchase in three ways: by coming out to our farm, visiting our store, or going to a Farmers Market in Mankato MN on Tuesday afternoon, Thursday afternoon, or Saturday morning.
July 4, 2018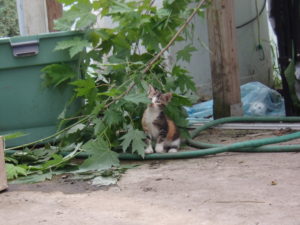 Yeah, summer crops are starting to come in. So far we have had some summer squash, zucchini, tomatoes, green beans, and peppers. We don't have enough to put in shares yet. Probably in a few weeks, though, we'll have enough. Our lettuce went to seed, and when it does that, we can't send it out in shares any more because it turns bitter.
The field is dry enough to let Farmer Dean drive on it on a tractor! Grandpa John came out one day, and drove a tractor, with Jonny on the transplanter on the back, for a while. Unfortunately for us, with so much rain, we now also have mosquitoes to deal with, along with normal summer heat.
Happy 4th of July!
June 29, 2018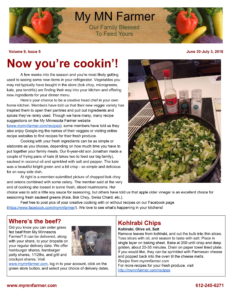 Some summer squash and zucchini are ready. We went out to the field to pick peas, and discovered that some summer squash and zucchini were waiting to be picked.
One thing that we have started doing this year is having ducks. Two of the boys like duck eggs better than chicken eggs. They said that duck eggs are richer and have a slightly different flavor. I can't say one way or another because I haven't tried duck eggs. Duck eggs are available three ways: to buy at our farm, at Mankato Farmers' Market, or add them via your account with us (click the store link on the right, login, go to the store which is found by clicking your name, then add the extras you would like delivered with your regular share.)
June 26, 2018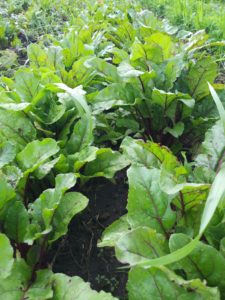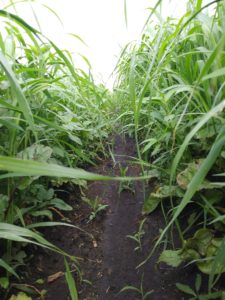 Beet weeding time! I took a before and an after photo of part of the beet patch. As you can see from the first picture, the beets were practically in a jungle of weeds. When we can't be in the field for a while because of mud, weeds seem to grow even faster than normal.  The field is drying fairly well right now, even with the rain last night. Hopefully, it will be dry enough to put a tractor on it by the end of this week.
Also, we are doing two more Mankato Farmers Markets each week, along with the regular Saturday market. One on Tuesday afternoons, and the other on Thursday afternoons. More chickens will be available after Wednesday this week.
June 22, 2018
Yeah, it has stopped raining for a few days, and we've even seen the sun occasionally! Some of you may be wondering what crazy farmers do when they can't work in their fields. Well, for us, if we have the high tunnels taken care of, you'll often find us training 4-H animals, washing produce for market, and playing with each other. Unfortunately, we don't have enough snap peas for you this week. Remember, to view the newsletter, click on the picture to the left.
June 19, 2018
Wow, it's been so muddy around here that to get things out of the fields, it's almost like trying to walk on a slip n slide that has soap on it.? When we went out to pick some more bunching onions, we were walking through ankle deep water.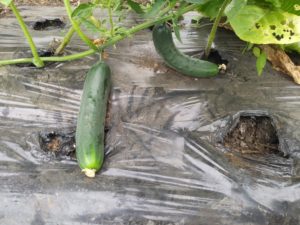 One nice part about all this rain is that the hightunnels are beautiful now. We even found a couple peppers that are almost ready, three cucumbers, and lots of green tomatoes. There aren't enough for everybody yet, but the summer crops are getting closer to ready to pick! Grow plants, grow!
If you don't know what to do with some of your produce, or are interested in different recipes, check out our recipes page.
June 15, 2018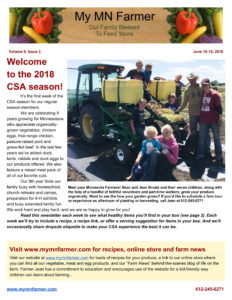 We are trying a new thing with our newsletter. If this works, it will probably be how we do our newsletter from now on. Instead of clicking on a link, click on the picture to the right.
Don't forget to visit our store to order fresh meat and eggs. We can deliver them to you when we deliver your produce share. If you don't have a share or know anybody that wants fresh fruits and vegetables, sign up at our store.
June 14, 2018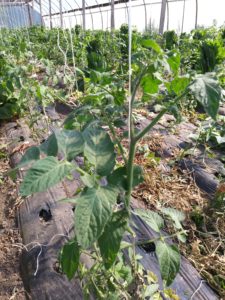 Our hightunnels are happier now. With all that rain, to work in the field would mean slipping and sliding in the mud, so we decided to work in the hightunnels instead. Tomato and pepper plants look much better when they are trellised and it is much easier to walk down the aisles if you don't have to watch out for plants.
Here is a video about worldwide opportunities on organic farms in Montgomery, MN.
June 8, 2018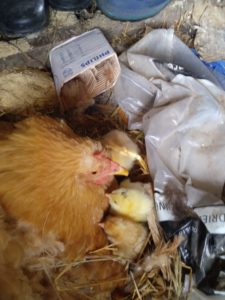 One of our hens that run free on our farm hatched some eggs yesterday! I took some pictures and I'll try to get a video of the chicks soon. When the kids discovered the chicks, they were thrilled because this is our second hen that has hatched chicks. It took us a bit to find something to put over the mother hen and her babies. We needed to protect her from the cats because they aren't in with the other chickens and otherwise the cats would easily be able to catch a snack.
Here is the newsletter for the week.
June 1, 2018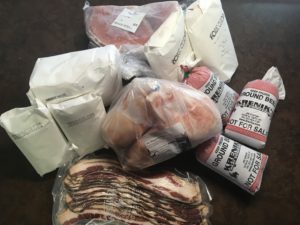 Welcome to the 2018 share season!! We have half shares and full shares of produce that we pack each Friday and Monday from June until mid-October. Full shares are white and half shares are black. You can still sign up for weekly produce, weekly or biweekly eggs, and biweekly cut or whole chickens. Invite your friends and family to enjoy fresh produce, meat, and eggs. The more the merrier! Order meat from our store.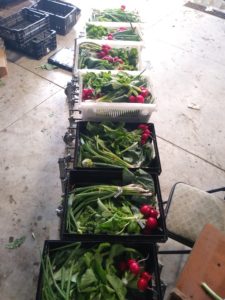 This week we trellised tomatoes, weeded hightunnels, had two more calves be born, and had water fights. If you want a farm tour, plants, meat, eggs, or produce, come on out to our farm. Just give us a call first to make sure we are around.
Keep an eye on the newsletter for what is in your boxes this week, our best guess as to the produce in the boxes next week, and more.
May 26, 2018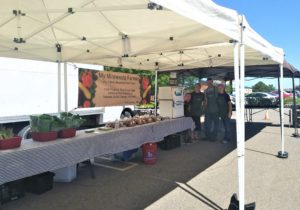 Another Mankato Farmer's Market went super well! We even sold out of radishes, asparagus, and eggs. If you want to come purchase fresh produce, frozen meat, or eggs, we will be in Mankato on Saturdays from 8:00a.m. to 12:00p.m. until October. Or you can come to our farm!
We should have cut chickens this Saturday.
Also, extended season shares start on Saturday, June 2nd. Don't have a share? Sign up at our store!
May 21, 2018
We had so many people at Baby Animal Day yesterday! From 2:00-7:00 we showed at least a couple hundred people our farm, animals, and hightunnels. Unfortunately our piglets were unable to be there, but they are here now.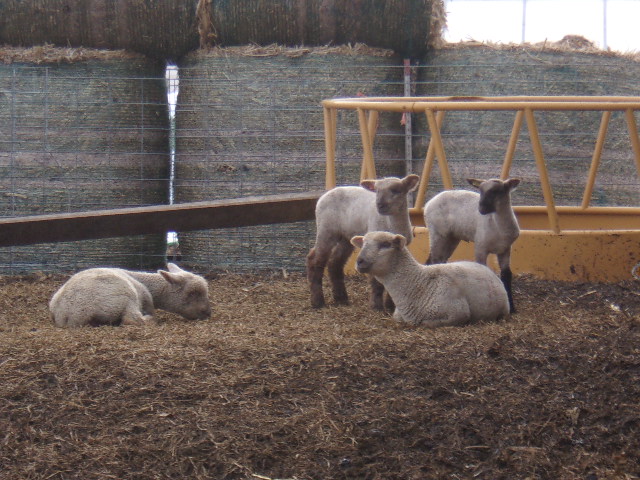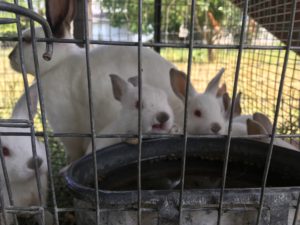 May 18, 2018
We mowed a lot of the farm yesterday. It looks really nice. We have been trying to balance planting, weeding, general farm cleanup, getting animals on grass and getting ready for market on Saturday. Don't forget, and tell your friends, Baby Animal Day is this Sunday! Come on down and view (and join!) our craziness!
May 16, 2018
It is almost Baby Animal Day. Bring your friends and family and enjoy a free day of playing on the farm. We will have farm tours, and lots of baby animals to play with. Local pizza, eggs, meat, plants, produce and Jean's granola will be available to purchase also. Thanks for supporting your local farmers!!!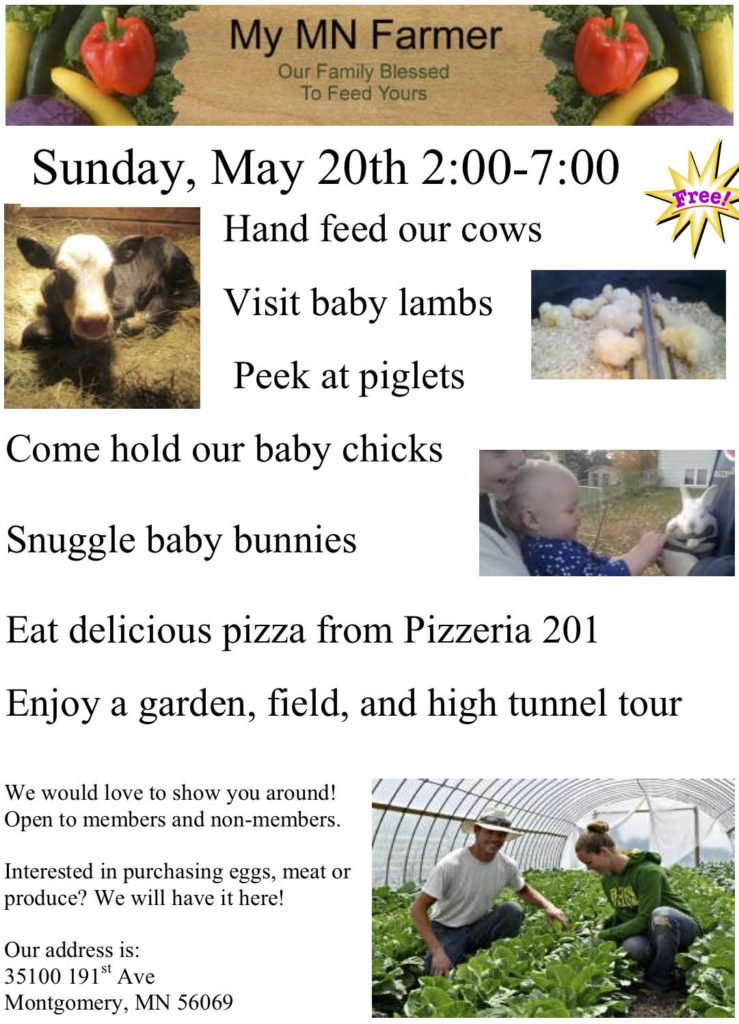 May 15, 2018
Big day on the farm today. Baby kittens, chickens and cows have their first day back on pasture, our tuff-bilt tractor arrived and is helping Dean kill weeds, and the apple trees are beautiful. Come celebrate with us this weekend for baby animal day on Sunday from 2-7. All are welcome. Our favorite pizza joint, Pizzeria 201 will have brick oven pizzas for sale and you can pick up eggs, meat or fresh produce from us too. We would love to show you our farm!
May 7, 2018
Hey everybody! We will be planting onions today and tomorrow trying to stay ahead of the rain, and we would love to have help. Come on down if you are interested! Let us know if you're coming. We'll be here!
May 3, 2018
This week is a very busy time for us. Tomorrow we have a group of first graders from Minneapolis coming over on a field trip. In the last few days, we have been planting potatoes, onions, peas, beans, lettuce, and turnips in the field, as well as tilling the field and cleaning the farm to have people over.
We are getting ready for the Farm Party. All of the animals are so cute! We have bunnies, chicks, lambs, calves and kittens here right now. This morning my daughter discovered a momma cat and her kittens. There was one born, and she was still having them at the time, so we don't know how many there are yet.
April 28, 2018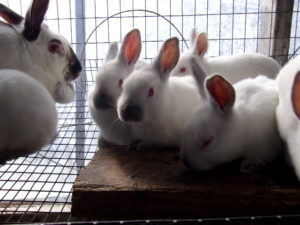 Baby Animal Day is coming! Cute babies, good food, plants and farm tours. Come and see how your food is grown.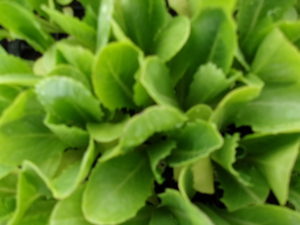 3 weeks and counting! Fun and free to everyone. Share this fun with your friends. All are welcome. Don't forget Pizzeria 201 will be here with their brick oven pizza. Delicious!
We will be hosting the Farm Party from 2 p.m. to 7 p.m. on Sunday, May 20th.
February 24, 2018
It has been a wonderfully busy couple weeks! We have seeds in the soil! Actually, about half of our greenhouse is filled. It is spring in the greenhouse. Here is a picture of some cute little kohlrabi springing out of the earth. Aren't they cute!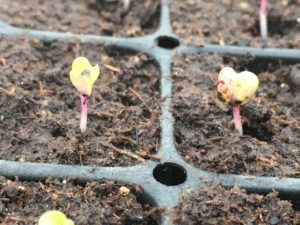 The beginning of the season isn't all as beautiful as these kohlrabi plants though. We started 170 flats of romaine lettuce and kohlrabi for the Minneapolis School District and put them into our germination chamber (also known as a cooler with two heaters in it). This germ chamber worked so well that the plants sprouted very quickly. This is wonderful and exactly what we want to happen except when it is negative degrees temperature outside and the moist germination chamber is warm we have learned that the door gets frozen shut. By the time we got to them, this is what they looked like.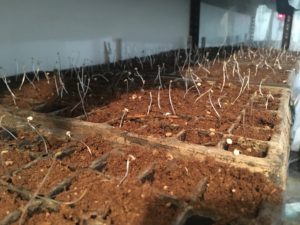 It is so sad to see all that work planting, money for the soil and the seeds get overgrown and turn into compost. We had most of the seeds repotted the day after we were able to check on them but we still lost about a week in the plants' development. We still have things in the germination chamber, peppers, onions, kohlrabi and a couple flats of lettuce from our next planting but I think we will open that door 500 times a day to prevent it from getting stuck if the weather gets extremely cold again. Ugh, that wasn't fun to find.
Our lambs are as adorable as ever. We set up a photo shoot with the lambs. In the approximately 200 photos I got these were my favorites. If you want to see more of the 'oh no, where is that lamb going' photos check out our facebook page.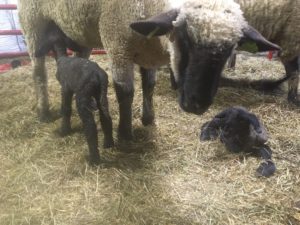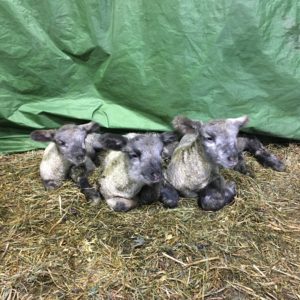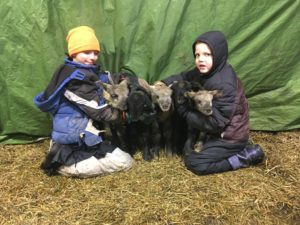 February 18, 2018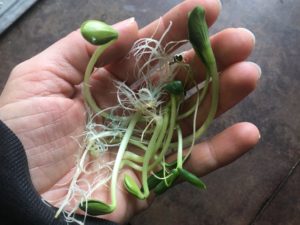 There is no good way to know if last year's seeds are going to germinate unless you test them. Here is a handful of the wonderful seeds that sprouted in the plastic bag we were doing the germination test in. It is so absolutely wonderful to watch a seed slowly turn into a plant and then even bear fruit and veggies that are so tasty and good for us. What a miracle I was holding in my hand. So amazing!
February 8, 2018
We did it! We now have 150 flats of romaine lettuce and 20 flats of kohlrabi planted. It is so fun to get our fingers in the soil again. Our problem this time was even though we had our bags of soil in our packshed for 3 weeks prior to planting they were still pretty frozen when we chiseled the soil off the block to plant. Luckily we had enough around the edges to fill our flats and cover the seeds. So crazy that it takes so long for soil to defrost. Our seeds were planted in flats in our pack shed, we then carried them to our cooler which we put two heaters in. Our cooler is now our makeshift germination chamber. We will move them to our greenhouse sometime this week so they can start to get sun after they poke their little heads out of the soil. It will be great to see green plants on the farm again!
We had another set of twins! It is crazy we now have 11 ewe lambs and 2 ram lambs. We are wondering if the Lord wants us to increase our flock! Lots of potential mommies around here.
February 3, 2018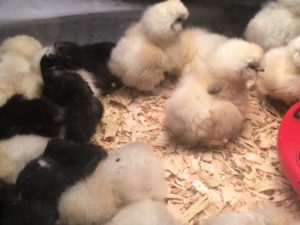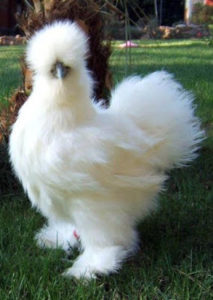 What fun! Our baby chicks are in. These are all female bantam egg laying chicks. There are two different kinds in this picture. There are barred rock bantams (the black ones) and silkie bantams (the white ones).
February 2, 2018
We had another cute little lamb. That makes 5! We now have three ewe lambs and two ram lambs. We are having a lot of fun spending time with these little cuties! It is starting to feel like spring!
Speaking of spring, we are beginning to plant this week! Yeah! Lettuce, kohlrabi, and onions will tuck into the soil this week! Now if only the onions seeds would arrive, that would help with the planting! 😉
January 30, 2018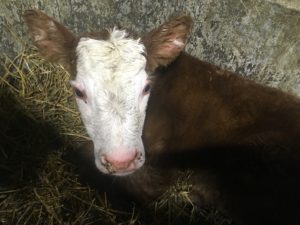 It is a full moon and the babies are coming full force! We had a new calf yesterday and a little ram lamb last night. I feel like our herds are greatly increasing. We have been having a good run of wonderfully healthy little stock. That is so wonderful.
Speaking of delivering, congratulations Marie on new baby Theodore "Teddy". May your family be greatly blessed with your new little addition!
Jonny and Ellie were out with the lambs yesterday holding and walking with them. It is so cute for this mommy to see my little ones loving these animals. So adorable!
Our chickens are slowly picking up on the egg production. Way to go girls! We are planning on running a delivery on February 19th, Presidents day where we will hopefully have lots of eggs and we are running a meat sale too!  More details to follow!
January 28, 2018
Way to go Amy! Our sort of favorite ewe, Amy had two adorable little girls. My husband went to drop off his sister and the other Honduras missionaries at the airport at 2 am. When he got home Amy's water had broke. When he was up again in the morning the second lamb had just been born.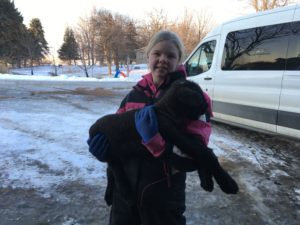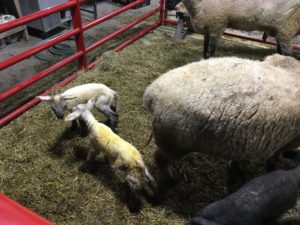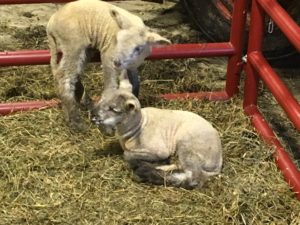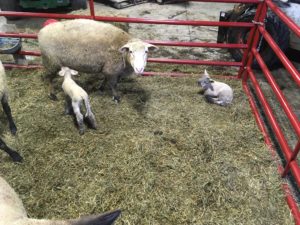 January 22, 2018
We have loved not having inches of snow to move away from all of our building's doorways, walkways and driveways but that will change today! We had to cancel our rabbit bowl practice and our farm financial manager meeting will happen another day. Other than that life is normal just a lot more work to get where we need to go. This will take Dean about 3 hours to plow off of our driveways, walkways and places we go to feed all of the animals.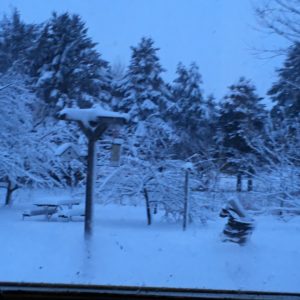 Even though it makes things a bit more challenging, we are greatly appreciative of the temperatures. I love weather that stays above zero day and night. Thank you Lord for that!
January 20, 2018
I went out this morning and the lamb took more of the bottle. Yeah, hopefully he will be great!
When I went out later in the day he had a bit of spunk and didn't want the bottle. That is what we want! Yeah!
We added an addition to our farm today. One of our friends at market was offered a 'real' job with insurance, benefits, a year-round paycheck and all those other wonderful things we no longer take for granted. Because of this he needed a buyer for his flocks of 60 ducks and 150 chickens. Well our chickens are sort of on strike right now because they are 2 years old and it is cold and we don't have ducks. We discussed it with our children to see if they wanted to pick up an extra enterprise. They were very excited about the ducks. They would occasionally treat themselves by buying duck eggs from Ed at market. So today we brought home new poultry and we will be selling duck eggs at market and on the website if we get enough, soon! (If the kids don't eat them all.)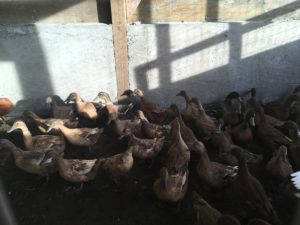 January 19, 2018
Mama and baby are doing ok. The little guy is a little lethargic today. Mom doesn't have her milk in yet and she is laying more than standing which doesn't make it easy for the lamb to nurse. We decided to give him a bit of lamb 'formula' to give him a couple more calories.
January 18, 2018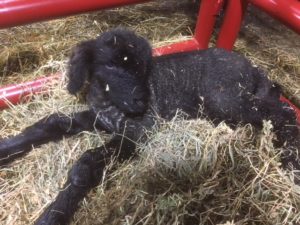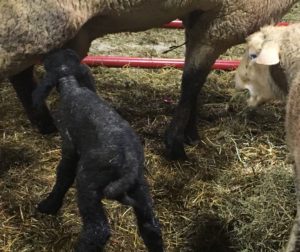 We are so excited to have our first lamb of the season but it wasn't without complications. 🙁  I woke up to get my kids and one of their friends ready for our 9:00 AM Feed My Starving Children about 40 minutes away. I went out to check on the sheep and grab some eggs for breakfast and found a cute little lamb out there. Unfortunately, the mama didn't have such a wonderful glow to her. While she labored in the middle of the night she not only birthed a lamb but also prolapsed her uterus. If you don't know what this is just add it to your, 'Another Reason I Am Greatly Blessed' list. A prolapsed uterus is when the ewe pushes the uterus out of their bodies inside out. Not a pretty sight. I was the vet assistant to Dean while he washed her up and inserted the uterus and then stitched her up. I was glad I made the oatmeal for the family before I came out to get the eggs. I even had 10 minutes back in the house to get ready before we had to be pulling out of the driveway.
Unfortunately, while we were on gone for our two FMSC shifts she prolapsed again. Dean fixed it without his assistant and then she ended up prolapsing one more time in the evening. Dean stitched her up exceptionally well and we are praying for the best.
January 14, 2018
Even though we are crazy farmers without a TV we 'saw' the score change on the cell phone and celebrated the win with hooping and hollering. ? Here is our funny tribute. What a great 'feet' Vikings!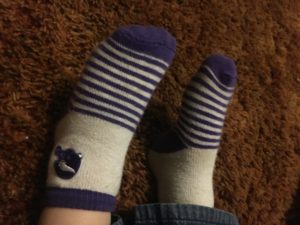 January 14, 2018
"And they came two by two." Not twins but our babies multiplied today. Now we have a little black baby girl and a little black baby boy. The cold temps and windchill has helped us decide they need to be in an 'incubator' in the warm shed tonight. We will return them to their mommies to get their bellies full in the morning. Aren't they adorable? They seem to enjoy being cuddled up together.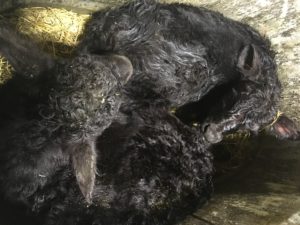 January 13, 2018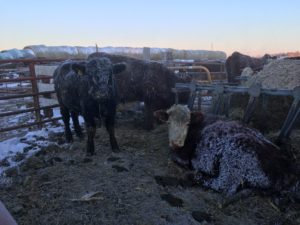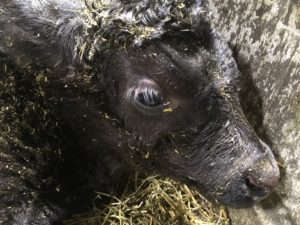 Our first sweet baby of the year is born! He is a smart, healthy bull calf born to a heifer. All right, I know some of you out there are saying how can a 12 hour old calf be smart! Here is the thing, when Dean went out to check on the cows after farmers market this morning, he saw that the cow had given birth but he couldn't find the calf.  After quite thoroughly search in around, he noticed a small black ear poking out from under the hay in the feed bunk. A calf at a couple hours old climbing into the cushy warm feed bunk seems pretty smart to me don't you think?
January 10, 2018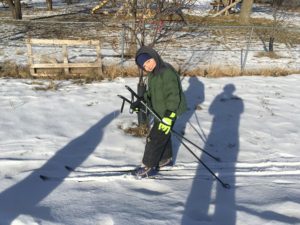 We have fun in winter too when the sun is shining! Just another day on the farm.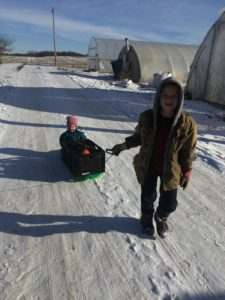 January 9, 2018
What a beautiful day! The sun is shining, the wind isn't whipping and the air doesn't bite your face.
Taking advantage of this blessing we were given we started the livestock pavilion lof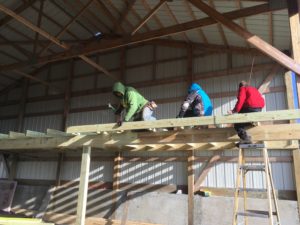 t. This will be the 'upper room' for our baby chicks to grow and stay warm within in the winter months. Lifting those huge support beams was a bit more of a challenge than it would have been for me in the fall but it was so awesome to get these in!
Our other nice day endeavor was sorting all of the cows and doing vet checks on all our mommies. We have 26 cows that will calf in the next two days to 8 months. Baby calves are so fun! Praying for healthy offspring!
Here is a photo of some baby cows waiting to go back to their mommies after they were preg checked. Aren't they cute? I love how diversified our herd has become.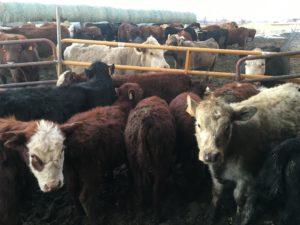 January 7, 2018
Yeah, it is above zero! Even almost above freezing. It is so nice how much easier life is when you pour water into the water dishes and the animals get more than a bit to drink it before it freezes again.
Some good news is our calf was not born during the sub-zero arctic weather. Now it could be born anytime. The other good thing is we get to sleep a few more hours in a row because although we still need to check on the mommy, we don't have to do it every other hour.
I think there is a sheep contracting! I will get pictures up soon if a new little lamb arrives.
January 4, 2018
It is so cold!!! Our chickens are laying less than 2 dozen eggs a day and most of them freeze before we get to them. Farmer Dean has been wrestling with frozen water pans and automatic waterers, defrosting frozen water lines and drain pipes and even dislodging huge blocks of ice from the back of cows tails. There was a large shout of joy when we saw the 30 weather in the forecast.
We have one heifer calf ready to calve. Because of the cold weather Dean has to check on her every couple hours all through the day and night.
Our sheep still haven't had their lambs but three are pretty close. I will post pictures when we get our first lambs they are so adorable!
Hope you are staying warmer than your farmers! Have a blessed new year.
January 2, 2018
Hello fellow friends! I have an awesome volunteer opportunity for anyone who enjoys serving others. At our church, Friendship Church at the Shakopee campus, we are hosting Feed My Starving Children on January 17-20th.
You will see your favorite farmers there multiple times. If you want to work a shift with us we would love to see you there. Let me know when you want to come and maybe we can work on the same table! 🙂 This is a ministry dear to my heart. I would love to share this spirit of giving to the less fortunate with others.
Here is the link to the sign-up. We would love to see you there!
January 1, 2018
Happy New Year! It is a wonderful time of the year to make those new goals for yourself. We just had an influx of signups and wonder if that has to do with Christmas gifts and New Year's resolutions. We would gladly support your healthy lifestyle habits!
You can keep praying for our animals. Or sheep are almost ready to lamb and we have two cows ready to give birth. With the cold weather, it is the time of the year where we go out numerous times each night to check on the livestock and make sure any new lives are licked off, warm and being fed by their mothers. It is also the time of the year where small furry lambs make their way to the laundry room between nursings just to stay warm. It hasn't happened yet but we will see what the month brings. Our first sheep are due to lamb in 5 days from today. Here starts 2018!
Last week one of our heifer cows had a cute little bull calf. He is healthy and getting adjusted to the outside world. The miracle of birth is truly a miracle. What an amazing design.