January 14, 2018
Even though we are crazy farmers without a TV we 'saw' the score change on the cell phone and celebrated the win with hooping and hollering. 😀 Here is our funny tribute. What a great 'feet' Vikings!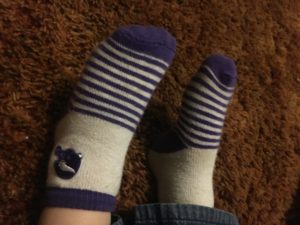 January 14, 2018
"And they came two by two." Not twins but our babies multiplied today. Now we have a little black baby girl and a little black baby boy. The cold temps and windchill has helped us decide they need to be in an 'incubator' in the warm shed tonight. We will return them to their mommies to get their bellies full in the morning. Aren't they adorable? They seem to enjoy being cuddled up together.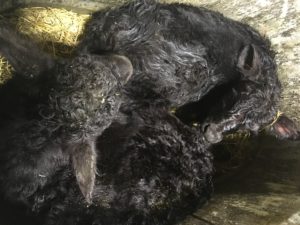 January 13, 2018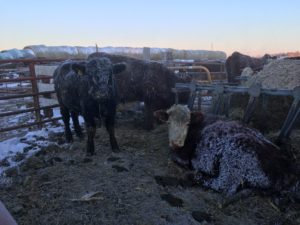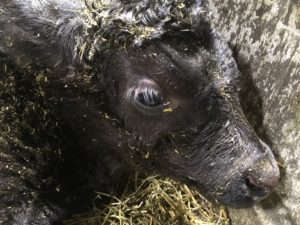 Our first sweet baby of the year is born! He is a smart, healthy bull calf born to a heifer. All right, I know some of you out there are saying how can a 12 hour old calf be smart! Here is the thing, when Dean went out to check on the cows after farmers market this morning, he saw that the cow had given birth but he couldn't find the calf.  After quite thoroughly search in around, he noticed a small black ear poking out from under the hay in the feed bunk. A calf at a couple hours old climbing into the cushy warm feed bunk seems pretty smart to me don't you think?
January 10, 2018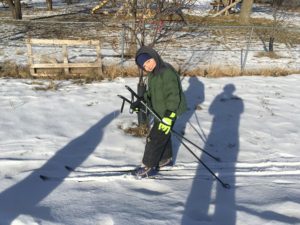 We have fun in winter too when the sun is shining! Just another day on the farm.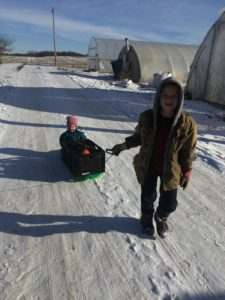 January 9, 2018
What a beautiful day! The sun is shining, the wind isn't whipping and the air doesn't bite your face.
Taking advantage of this blessing we were given we started the livestock pavilion lof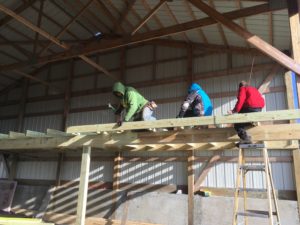 t. This will be the 'upper room' for our baby chicks to grow and stay warm within in the winter months. Lifting those huge support beams was a bit more of a challenge than it would have been for me in the fall but it was so awesome to get these in!
Our other nice day endeavor was sorting all of the cows and doing vet checks on all our mommies. We have 26 cows that will calf in the next two days to 8 months. Baby calves are so fun! Praying for healthy offspring!
Here is a photo of some baby cows waiting to go back to their mommies after they were preg checked. Aren't they cute? I love how diversified our herd has become.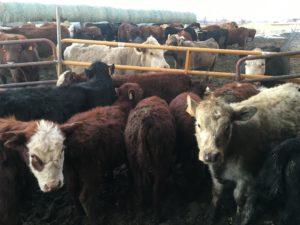 January 7, 2018
Yeah, it is above zero! Even almost above freezing. It is so nice how much easier life is when you pour water into the water dishes and the animals get more than a bit to drink it before it freezes again.
Some good news is our calf was not born during the sub-zero arctic weather. Now it could be born anytime. The other good thing is we get to sleep a few more hours in a row because although we still need to check on the mommy, we don't have to do it every other hour.
I think there is a sheep contracting! I will get pictures up soon if a new little lamb arrives.
January 4, 2018
It is so cold!!! Our chickens are laying less than 2 dozen eggs a day and most of them freeze before we get to them. Farmer Dean has been wrestling with frozen water pans and automatic waterers, defrosting frozen water lines and drain pipes and even dislodging huge blocks of ice from the back of cows tails. There was a large shout of joy when we saw the 30 weather in the forecast.
We have one heifer calf ready to calve. Because of the cold weather Dean has to check on her every couple hours all through the day and night.
Our sheep still haven't had their lambs but three are pretty close. I will post pictures when we get our first lambs they are so adorable!
Hope you are staying warmer than your farmers! Have a blessed new year.
January 2, 2018
Hello fellow friends! I have an awesome volunteer opportunity for anyone who enjoys serving others. At our church, Friendship Church at the Shakopee campus, we are hosting Feed My Starving Children on January 17-20th.
You will see your favorite farmers there multiple times. If you want to work a shift with us we would love to see you there. Let me know when you want to come and maybe we can work on the same table! 🙂 This is a ministry dear to my heart. I would love to share this spirit of giving to the less fortunate with others.
Here is the link to the sign-up. We would love to see you there!
January 1, 2018
Happy New Year! It is a wonderful time of the year to make those new goals for yourself. We just had an influx of signups and wonder if that has to do with Christmas gifts and New Year's resolutions. We would gladly support your healthy lifestyle habits!
You can keep praying for our animals. Or sheep are almost ready to lamb and we have two cows ready to give birth. With the cold weather, it is the time of the year where we go out numerous times each night to check on the livestock and make sure any new lives are licked off, warm and being fed by their mothers. It is also the time of the year where small furry lambs make their way to the laundry room between nursings just to stay warm. It hasn't happened yet but we will see what the month brings. Our first sheep are due to lamb in 5 days from today. Here starts 2018!
Last week one of our heifer cows had a cute little bull calf. He is healthy and getting adjusted to the outside world. The miracle of birth is truly a miracle. What an amazing design.