November 2, 2017
The turkey orders are sure coming in but we still have turkeys available for Thanksgiving. These are fresh and have no antibiotics or hormones. So super moist and delicious. If you are having trouble ordering let me know and I will get it in your account. Thanks!!
No newsletter this week but I need to give you an update anyway! We should be slowing down, there is not a lot to harvest, in fact, the only things we have left to harvest are microgreens and kale. Our cooler and packhouse are full of lots of delicious winter items such as potatoes, onions, beets, cabbage, eggs, pumpkin, and squash. Let us know if you need anything.
We have been keeping busy pouring cement. This was a fun family activity we did today after we made our delivery to Gustavus Adolphus College. It is great to work together as a team and get something done! It definitely is hard work but that is part of life too!
October 22, 2017
This is my last newsletter for the season. It is the third and last delivery of the extended season. We will miss getting fresh produce meat and eggs to you. We are going to clean up our fields, process some chickens, pour a couple loads of cement, clean up a rental house, get our farm ready for winter, plant a bunch of garlic and then start hitting homeschooling pretty hard. We have already started homeschooling and doing some much-needed housework. Next plan is starting to plan next season. Hope you have a wonderful and blessed fall and winter. Enjoy the fall weather before it gets really cold. Enjoy your fall!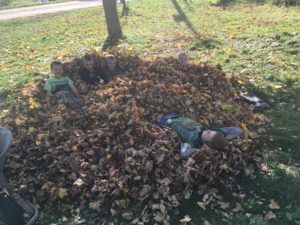 October 15, 2017
This is the last week of regular season. There is still time to sign up for the extended season if you would like to get one additional week, with Brussel sprouts too!
We will miss getting you good food every week! If you need to stock up on anything you can order potatoes, tomatoes, peppers, onions, squash, pumpkin, or meat online. If you don't see what you are looking for let us know. We may just have it although it isn't on the website.
The newsletter is done and is filled with writing from a farmer's heart and an explanation on what else we have to offer over the winter. Now is also the time to order your fresh Thanksgiving turkeys delivered to your door! A Thanksgiving box with fresh veggies is also available.
October 10, 2017
Wow, this has been such a whirlwind of a week somehow or another my newsletter didn't get published. Sorry! I have it published now.
September 29, 2017
What a beautiful day! It was so great harvesting I never came in and wrote my newsletter. Check out our wonderful visitors from South Africa praising the Lord in song after an amazing tomato harvest, chicken footprints in our new cement and an awesome squash recipe.
September 22, 2017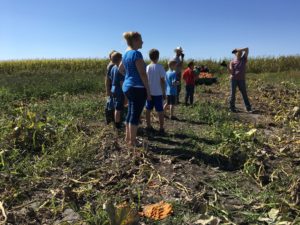 It has been a great week. Not only did we finish the onions we have also harvested almost everything in field 3.We took out the pumpkins, acorn squash and kabucha squash. All we have left in that field is a row of gourds. If that doesn't sound like a lot this is part of the pumpkin harvest we collected. What an amazing day. We even made it to church on time that day!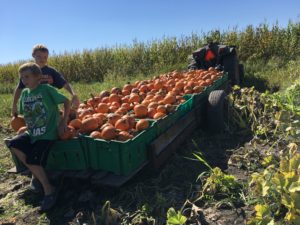 September 15, 2017
I finished the newsletter. I believe I will not send out carrots this week even though it is in the newsletter. We are supposed to get an inch of rain and it may be too tricky to mud them out. If I would have been thinking I would have sent them out last week. Sorry. They will be coming. There are tomatillos in the box this week. Try some salsa verde or link to the "lots of things to do with tomatillos" on our newsletter. Thanks! Enjoy.
September 14, 2017
YEAH!!!! All the potatoes are dug for the 2017 season! This is such a great feeling to have this MONSTROUS job finished! It feels good to celebrate the successes when we can! Wooo Whooo!
September 8, 2017
The newsletter is ready again. There is a great chicken recipe in here and a paragraph about our abundant harvest and living the dream! There is so much harvesting to do that if you would love to 'live the dream' with us, even for a day, let us know and you can come help us. No lack of projects or harvesting to do around here. Especially as the season is winding down and we have tons of squash, onions, potatoes, cantaloupe, beets, pumpkins and so many other things. And yes, tons of pounds is not exaggerating. Thanks for supporting us on our crazy mission. 🙂 Blessings to you as you support us!
August 31, 2017
The newsletter has great fun and bad news this week. We are looking at the last seven weeks of the season. It looks like the weather is going to demonstrate this fact by being pretty cool. Low temps look like they can be in the 40's. Here we come fall.
August 26, 2017
It has been a crazy two weeks now with the kids at the county fair and now Abby at the State Fair. It is tricky enough having Abby gone but now Dean has been gone too. It will be nice to be all together again!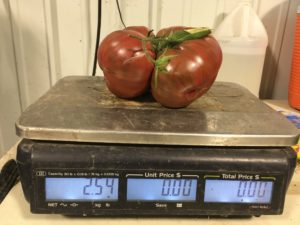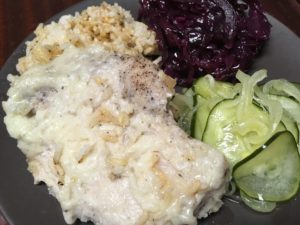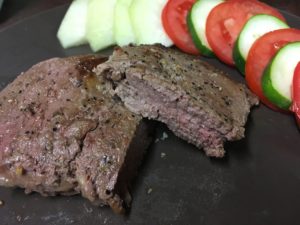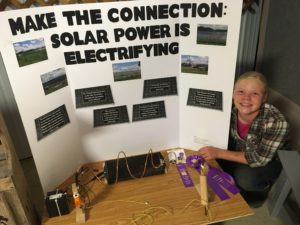 Despite that, we put together what I think are some pretty boxes again this week! The best part of all of this is there are LOTS of different kinds of produce in the field waiting to go in boxes. Check out the newsletter with a list of a bunch of things which have not hit boxes yet or only got in them once. Lots more excitement to come!
August 17, 2017
What a fun crazy week. It is fair week at the LeSueur County Fair. The children are bringing more than 30 animals and 7 general projects. I am glad they are having fun with it but having that many animals to make beautiful is almost a full time job. Did you know at the fair the ducks beaks and feet are cleaned with a toothbrush, the cows are shampooed, clipped and blow dried and the sheep are shampooed and sheared? It is like an animal beauty saloon around here. 🙂 Because we are so busy if you would like to come out and help us pick beans, cucumbers, summer squash and zucchini you can keep half of what you harvest or just come out for the fun. We love the help and would love to see you. We just have to work around our crazy schedule!
August 10, 2017
It took me so long to get last weeks newsletter posted. I vowed to do better this week. Here is the newsletter with an awesome cucumber recipe and a summer saute that is a great hit with my family. Also random farm news including great growing and lack of mosquitos! There will be beans instead of beets and yukon potatoes instead of red potatoes. Enjoy your goodies!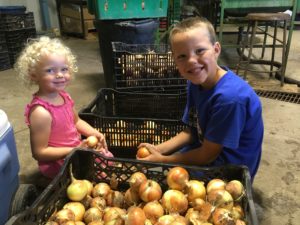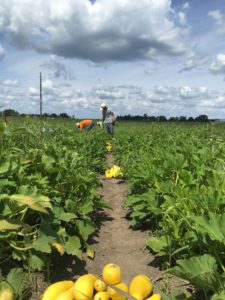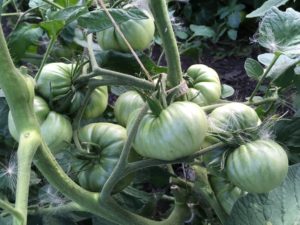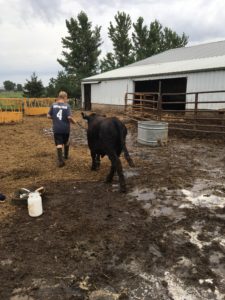 We have two tomato tunnels that look like this, bushes of bushels of tomatoes!
August 6, 2017
The newsletter was finished days ago and I forgot to post it! Sorry. Hope
you are figuring out what to do with all of your goodies.
I have tons (almost literally) of green beans and cucumbers. Let me know if you want to come pick them for a minimal price per pound for our planting and weeding or we will pick them and deliver them to you. Our gardens are fantastic! The weeds are too but I choose to focus on the positive. 😉
July 29, 2017
I hope you enjoyed the pictures. It is so fun for me to be able to share our craziness with you!
The newsletter has a refrigerator pickle recipe on it and one for zucchini salsa. No pictures this week but look below for a photo tour of the farm. 🙂
July 22, 2017
It has been soo long since I posted photos! Sorry, there has been so much going on and I not spending enough time on my computer. Here are a few of the happenings on our farm in photo form. 🙂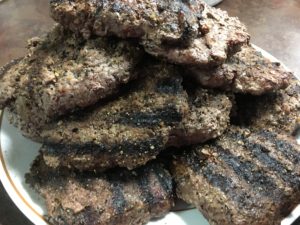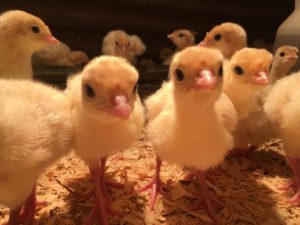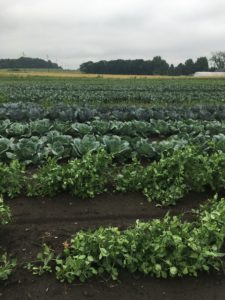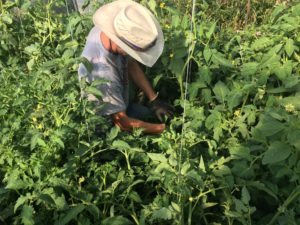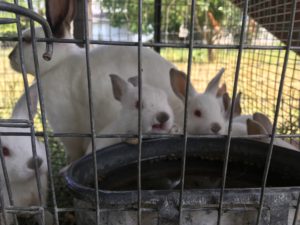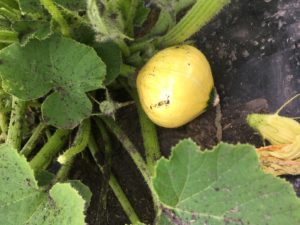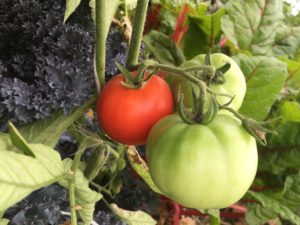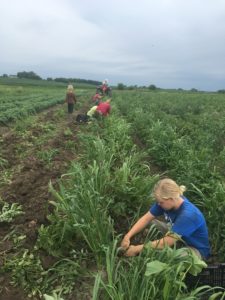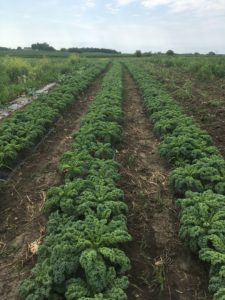 July 20, 2017
Here is your newsletter. 
July 14, 2017
It has been a fun and crazy week. Without our 7 children as our helpers and entertainment, we still got everything done. I have Our Newsletter ready to go. There is a great chicken recipe in it. If you need more chicken let me know. You can also add it to your account.
A fun video of a calf that was born is now on Youtube. Check it out at https://youtu.be/UB-TWXnfYrI. It is a 3 part video because I haven't tried to link them together. Enjoy the craziness.
We also had a mommy kitten abandon her babies but I talked Curie, our mommy kitten to adopt them. So now she has 4 kittens instead of the 2 she birthed. What a good mommy! Have a great week!
July 7, 2017
This is our last day with our wonderful kids home until they go to a week long Bible camp called Big Sandy Camp in McGregor MN. It will be really strange to not have our children and helpers next week. Hopefully, we will have just as beautiful boxes without our superstars. Our only full-time employee was done last week too. He is going onto bigger and better things in life, raising money to fund his two-year mission trip. It has been a very different year this year working with 3 high school students instead of three full-time employees and three part-time employees too. We always make it though. It is just a different year.
July 6, 2017
Our newsletter is ready and has a fun kohlrabi recipe in it. I also included a great recipe link where you put your ingredients in and it kicks back recipes that use those items. Great tool.
It has been a crazy wonderful week. It has been so hot! We are just pretending we are in a sauna and took a couple hours to splash in the river this week as a way to keep our core body temperature down.
Everything that has been breaking around here is slowly getting fixed. Since our last update, the brakes went out in our UHaul. Luckily it was only the front brakes. Happy to have a fully functioning brake system again!
When we were washing produce up on Friday we turned the water on and nothing came out. That is weird and a little unsettling. We looked all around the farm to find what could be causing this strange phenomenon. Nothing. Not only do we need to get drinks, wash produce and use the bathroom but we also need to keep all of our chickens, cows, sheep, and pigs alive. It is really hard for that reason to not have water. Just fixed the well controller a couple of months ago. That wasn't the issue. We called the well men who came out and in 45 minutes and $2000 later we have water again. There was a hole in one of the pipes about 300 feet below ground. Then we replaced the 10-year-old pump too. Hopefully, we will be good to go in the well world for awhile.
It is amazing, you forget what a blessing water is until you don't have it. We are so spoiled in this country compared to other countries. Water, clean and hot or cold with the twist of a handle. Thank you Lord, for all of our blessings (even when we have to pay to maintain them).
July 4, 2017
Happy 4th of July! Stay cool and safe. Many blessings to you!
June 29, 2017
It has been another crazy week. Here is the newsletter with box contents and an awesome recipe for your bok choy.
Say an extra prayer for your farmers this week. Everything has been breaking around here and it is hard to keep up. Two tractors,  our riding lawnmower, our push mower, our U-Haul breaks, one of our amazing drivers crashed the box of our U-Haul and I don't think it is fixable, our well, our generator, the air conditioning unit in our small cooler, our shower plumbing it has been a crazy two weeks. We will make it through all of this too. With the Lord's help we always do. Dean is just spending much of his day fixing things. Not exactly what the plan was. Despite this, the fields are really looking awesome!  Now if we only had a lawnmower to make our lawn look nice. 🙂 Oh well, the fields are what really matter right? Thanks for supporting our farm!
June 24, 2017
Hello! I hope everyone enjoyed their first box of regular season produce! We have had such an interesting year first cool and very wet, then so hot and dry. There has finally been some beautiful weather and now it sounds like extreme heat may be around the corner. If it isn't too scorching it will really help our tomatoes, peppers and eggplant grow.
Because of the interesting weather, the boxes have a few more possibly 'new to you' products in them. Last year at this time we had cucumbers in the boxes and more lettuce. Each year is so different. Unless there is a major storm or something else earth shattering around here, there will be lots of 'regular' produce soon. Our fields look great and there are lots of plants with flowers and little fruit and veggies on them.
Here is the newsletter which gives you recipe ideas and lots of fun updates. Check out the kale harvest picture from last week. We are working hard around here.
June 16, 2017
It's Newsletter time and the first week of regular season. What a great time! Enjoy your green stuff! 🙂
June 15, 2017
Storm Update… Unfortunately, when we went out the next morning we looked at our new livestock pavilion we are building and it is no longer square. I guess the combination of the mud and the strong winds put the building kittywampus. Ugh, we didn't need more work added. Oh well, more pushing, bracing, ratchet strapping (is that a verb?) and then screwing it all together and putting the tin on. It will be so nice to have the next step finished. Also, we have decided we have to take down the beautiful old tree that is on the way out to the field. This makes me sad but it looses a huge branch (about the size of a tree themselves) each time the wind blows. It just isn't safe anymore. Bummer.
June 11, 2017
It rained! We so needed it. I was a little nervous as we left for church this morning. There was a severe thunderstorm warning. We turned off of our road and saw a thick black cloud and storm watchers posted right by our farm. We said a prayer and kept on driving. After attending my adorable nephew's baptism we headed off to our home church of Friendship and then back home. We quickly discovered that although the severe storm didn't totally miss us, everything that was damaged will take time but everyone was safe. All our animals are happy and cooler.
We first noticed that our huge maple tree lost a very large branch. It didn't fall on any cars or buildings. That was good!
The second thing is our grain bin tipped over. It is rather large and just missed the water hydrant, the shed and our chickens. I'm glad I wasn't a chicken though when it was falling. That would have been pretty scary!
A couple of our high tunnel walls were ripped too. I guess this is part of farming. We take the rain and whatever wind and weather comes with it.
We are just happy the animals and crops are safe. There will be a bit of repair to do but safety is a blessing and we were blessed.
June 9, 2017
The Newsletter is ready. I hope those of you that received your first box of extended season enjoyed it! It is so fun to be putting great produce in the boxes again and getting it out to our CSA family.  Pray for at least some rain for us please. We are doing what we can to keep all our baby transplants alive. Some look great and others look really thirsty!
June 6, 2017
We have been working hard this year! The crops are flying in the ground now that we have a dry spell. Unfortunately, we are now desperately in need of rain. I am putting irrigation lines down and watering as much as I can. No rain in the 10 day forecast now though. Ugh! We will see what happens.
June 3, 2017
It is the first box of extended season this week. The first week of regular season is the week of the 17th. Yeah for delicious produce!
Here is the view from the seat of our tractor. Here we are tilling down a beautiful stand of cover crop. Get that nitrogen into the ground to make even healthier soil!
Here is the newsletter. Check out the drop-site etiquette, the box contents and a farm update. I didn't have any room for pictures or recipes this first week but that will change once the season gets rolling. Please call if you have any questions.
Here are a few pictures of our business here to make up for the lack of them on the newsletter. 🙂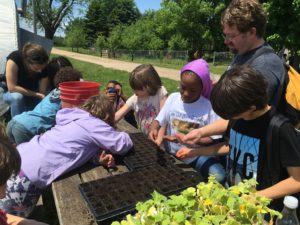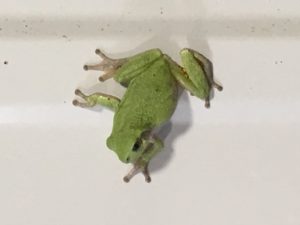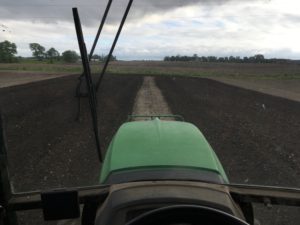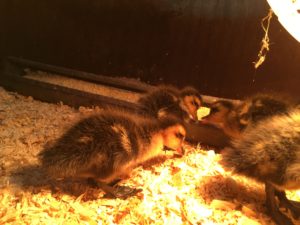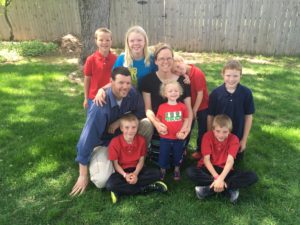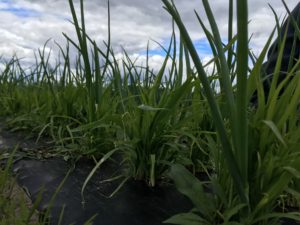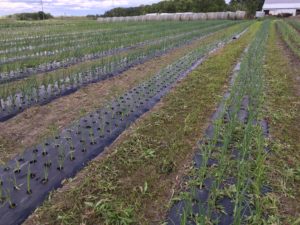 May 22, 2017
What an amazing day yesterday! Thank you so much, everyone, that made the day so awesome.
Thank you, everyone, that came to enjoy the day despite the cool weather. I walked into our pack shed and saw people enjoying the community and chatting with each other and children holding baby animals. I was so happy I got teary. This is what we want our CSA community to be. People enjoying each other and the animals and awesome food. Thank you so much for making me so happy. 🙂
Thank you Pizzeria 201 for the delicious food! It was great seeing people sitting around and eating the healthy hog! 😉 We love your pizza and business! Thank you for buying local!
Thank you to our friends and family that helped make the event a success. Our parents, for mowing, watching kids, taking pictures, bringing food and greeting the wonderful people that came. Katie for being the ultimate greeter and bunny protector! Lori for taking care of people who wanted meat, eggs and produce and helping set up and tear down. Wyatt for making sure the pig didn't bite any little fingers or dig its way out under the chain link fence. Nadine for helping plant flats and get extra produce and be everywhere you were needed. Carl for helping set up, greeting people and being overly qualified for anything I asked him to do! 🙂 I am so thankful for our wonderful support network!
Thank you to our Lord who provided nice enough weather that people still came. We barely got any rain and that is a change from the norm around here!
I hope everyone had a great time and if you have any pictures you want to share I would love to see them! Thanks!!!
May 20, 2017
Baby Animal day is tomorrow 2-7 rain or shine, although we are praying for shine! 🙂
May 12, 2017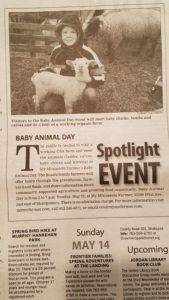 Look we are famous! 😉
Come visit our farm, it is such a good time. The local, Pizzeria 201 will bring their brick pizza oven over to sell pizzas during the event! How fun! They buy produce from us so it will be awesome to have them here. Come ready for a good time. Bring your mud boots if it is raining but we are already praying for good weather! Welcome Spring!!
May 12, 2017
Another calf born today. This one was from Lucas' 4H cow from last year, Cookies n' Cream. What should her name be? She is all black and meeting her new companion.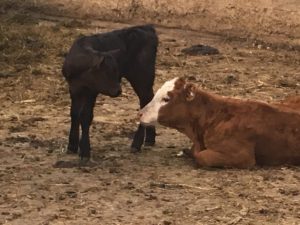 May 10, 2017
Yesterday we planted around 45 hundred squash seeds, weeded high tunnels, transplanted plants, and bagged herbs for market. All this is in addition to our regular animal chores. Today the list includes harvesting microgreens, moving cows to pasture, transplanting cabbage and broccoli, making homemade granola and cleaning up for farm party. Then we will be heading out early to volunteer at Second Harvest Heartland at our church. We will be donating 350ish dozen eggs also. First fruits go to God! Another busy day! The sun is shining and we are ready to work.
We had another baby calf born yesterday! He looks just like his mommy. 🙂 Red with a white face, chest, and socks. He also has a white band around his ear. He is so cute! Elizabeth's calf is also doing much better. He is almost fully recovered.
May 8, A little more tired and sore than this morning.
The rain is just beginning but the lightning is amazing and kind of scary! Dean is still out, cleaning out the cow lot before it gets too wet but the rest of us are in using our tomatoes, peppers, and onions that we canned and froze last year for our spaghetti tonight. It was a great day. Between all the plants we transplanted we planted just over 11,000 plants. Now with God watering them in, we should have some beautiful, healthy plants. Yeah for a good days work! Hopefully, we don't get too much rain because honestly, we would love to do this exact same thing tomorrow!
One of our calves is looking sick. We gave it probiotics and a nutrient drench (calf drink). It doesn't have a fever but is really lethargic. If you are a praying person and want to throw up a prayer for our little bull calf that Elizabeth birthed last week that would be appreciated. He is so cute.
May 8, Lunchtime…
Came in for lunch at 1:15. We have 4,700 plants planted so far. We can do it! (I hope)  🙂
May 8, 2017
All the trusses are up on the livestock pavilion! Yeah, so glad to have that part of this big project done.
Today our goal is to transplant half the plants in the greenhouse. This calls for lots of help, lots of water, and big hats to prevent sunburn. We are going to have a short schooling day with the kids and then head out at 10 to start "transplanting the greenhouse" as we like to call it. The first round of plants that go onto bare ground equals 10,240 plants. Then we have ones that go onto plastic too. I will try and remember to write an update this evening on what we have accomplished if I'm not too tired. 🙂
Blessings to you on this beautiful sunny day!
May 4, 2017
We have all the potatoes planted! 1,500 pounds of potatoes in about 24 hours. We walked up and down the rows dropping potatoes and using our feet to push them down in the trenches. Later on, Dean came by with a tractor and covered them with dirt.
The apple blossoms are beautiful right now. Plants are popping up all over the farm. Signs of spring are everywhere! We had a new baby calf born just a little while ago. It is only an hour or two old. We also have baby bunnies, chicks, lambs, and kittens.
Sam and Andy have been searching the shed for kittens the past couple of days and have found 3 litters so far. If there are more in the shed, I'm sure they will be found sooner or later. 🙂
The Animal Pavilion is going up! We are putting up the trusses right now. It takes about an hour for each one. Thankfully, we have friends and family who come over to help, both with construction and farm work.
In addition, as if that were not enough to keep us busy, we have been cleaning up the farm for Baby Animal Day on May 21. Washing doors and walls, mowing, picking up toys and other things like that. There will be baby animals, farm tours, a farm stand, plant sales and fun games. Make sure you're here! It's a Sunday afternoon from 2 to 7.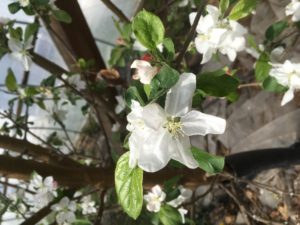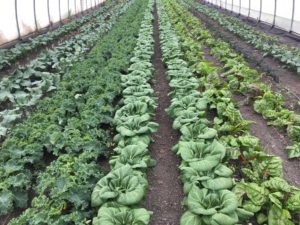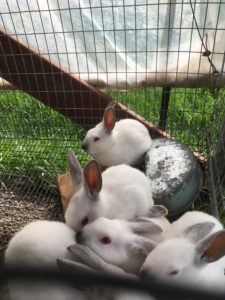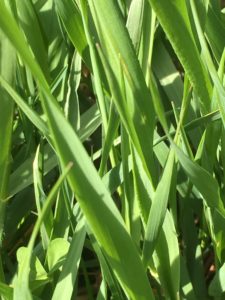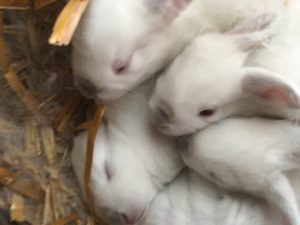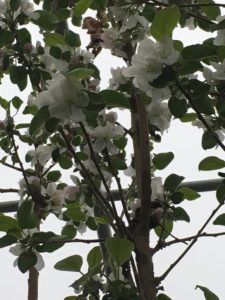 April 24, 2017

The planting has been going so well! Our onions are finished and we will start cutting and planting our potatoes today. This is a big heavy job to plant our 1,000 pounds of potatoes but it feels so good to have it done too. Here we come potatoes!
The babies are coming fast now. We just had kittens from Curie (short for curious) our mama cat. There are 3 cute little babies.
Two of our mama cows had their calves. One little girl and one little boy. They are safely tucked into the lean-to on the shed until the weather gets a little less drippy. We are hoping to be out on pasture by May 1st.
Our livestock pavilion is on the ground next to where it will be constructed. We have a contractor coming over later this week to help us put up the rafters and get the main frame done with their lift.
Here are a bunch of pictures to help you 'see' our wonderful farm! High tunnels are looking great. There are new baby cows and kittens. The greenhouse is overflowing ready to be transplanted. The peas and radishes are sprouting outdoors. Isn't spring such a blessing!!!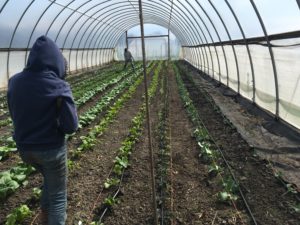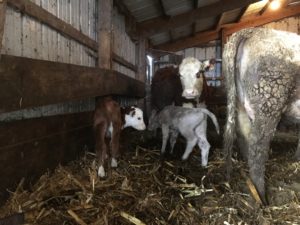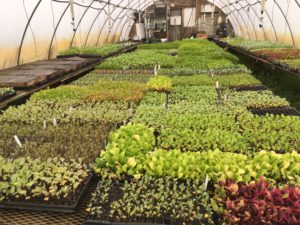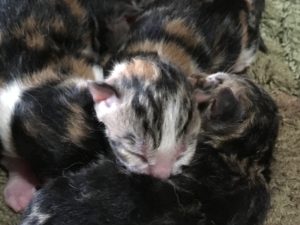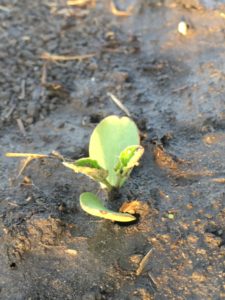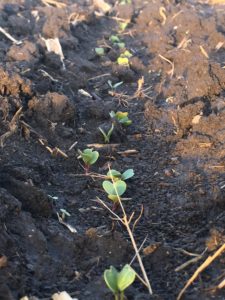 April 13, 2017
Happy Spring! We have been doing a ton of planting! Well maybe not literally but it feels like it. 🙂 We have peas, beets and radishes seeds planted outside. We have 7, 400-foot rows of set onions planted and the first two, of probably 12, 400-foot rows of onion plants that we have grown from seed planted. The cute little onions plants make the fields look green already. The cover crop is a couple inches high. It is great to see the nitrogen fixing, green manure growing and improving our soil.
Our new pullet chickens are starting to lay so we have a whole bunch of eggs! Here are our first fruits! We are donating hundreds of dozens tonight.
March 17, 2017
The greenhouse is very green. We are getting ready to plant into high tunnels. We are thinking the weather report looks like we should be able to plant into the tunnels next Monday. We will see what happens.
Lambing season is going great. I think we are up to 15 adorable lambs. Three sheep are left to lamb. It was nice to have warm weather yes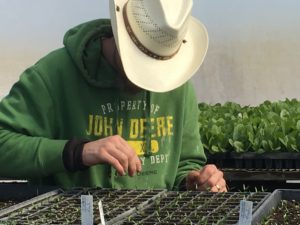 terday because we were able to check them at 11:00, 3:00 and 7:00. It was nice to get a full nights sleep. We greatly appreciate not having to be up every hour.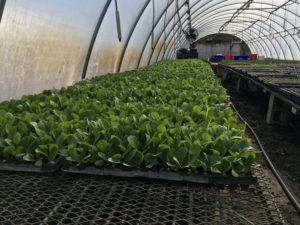 March 14, 2017
We had a set of twins in the laundry room yesterday and now again today. They are adorable but when they come in cold it is so sad. The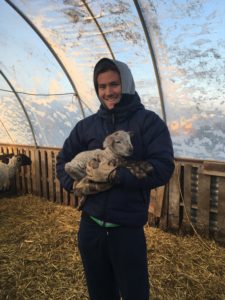 mommies try to lick them off to warm them up but when the air temp is 9 degrees it is hard to keep a wet newborn lamb warm, which is why they come to the laundry room, nursery. 🙂 I had one little boy lamb today that came in with an internal temperature of 91 degrees. Typical is 101 or 102 for these newborns. With 45 minutes of a blow dryer on high heat and rubbing the little cutie we got it up to temp, made it a cute little lamb coat, and one for the twin girl also, and sent them back out where they nursed and are happy as can be.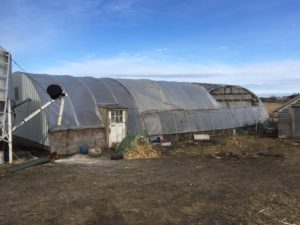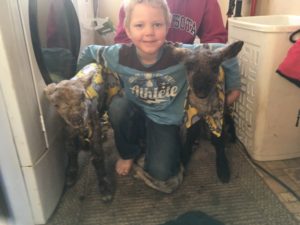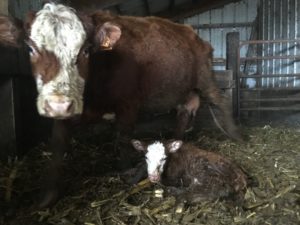 The sad news of the week is that two of our high tunnels were damaged in the wind storm. I put a picture of our chicken high tunnel. You can see the wind took off the top about 1/4 of the high tunnel. Luckily we got it recovered the very cold day right before the snow came. I think the chickens truly appreciate it. they love being free range hens but not if there is any snow on the ground! 🙂
High tunnel 14 which we just covered last fall looked like the cover was going to come loose. We put farmer invented reinforcement straps over the whole tunnel in about 5 places to hold the whole thing together. Well it worked, even though the wind blew continuously for days the tunnel stayed together and the plastic didn't rip. Unfortunately, though the straps held everything together so well that instead of the plastic ripping off it just lifted all 26 posts out of the east side of the tunnel and blew one end wall off. The other end wall is very bent. Unfortunately, because it looked like if we left the plastic on the tunnel was going to stay together while sailing through the air, Dean ended up cutting the plastic off and we use it to cover the chicken tunnel. That was a hard and expensive day on the farm. Oh well, at least the beams were not broke or bent. I guess we get to buy a new cover for our high tunnel.
March 4, 2017
The Busy Laundry Room:
In case running 7 people's farm and church clothes through our laundry room isn't enough yesterday we added a few more things. First I woke up and I saw that on my husband's last shift of lamb checking he found a cold little lamb out there who wasn't eating and needed to be warmed up. He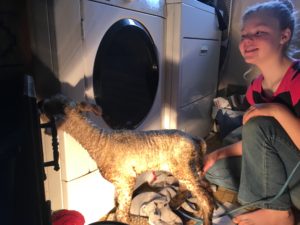 promptly brought it into the laundry room and set it on our rug with a heat lamp on it. In about the next two hours it warmed up and we were able to return it to its mommy. It started nursing and is doing great!
Then about 15 minutes later 15 baby chicks were brought in. They had poo stuck to their backsides and needed to be cleaned up. This took about an hour for I, Jean, and our two sons Joshua and Andy to get them washed, warmed and ready to go back outside. Because they were still a bit wet, we kept them in the house overnight. Now my laundry room is only being used for clothes. This is quite a relief but it is open to whatever may come by.
So the moral of the story is: If you ever come to my house and notice my laundry room is not spotless, please grant me grace. 🙂
March 1, 2017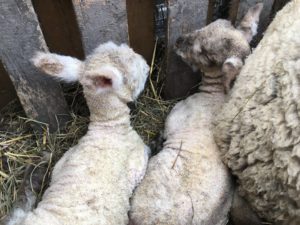 The first set of lambs came today! They are so adorable. Farmers, get ready to be up every two to three hours around the clock to check on your sheep. It's like having a newborn that you need to take care of almost constantly that lives 1/10th of a mile from your bed. We sure are blessed to be able to raise our kids in the house. 😉 Here are the first two superstars! One little boy and one little girl.
February 27, 2017
Quick! There is only one day after today to sign up for our CSA for the best prices of the season. An automatic 4% discount will be applied to produce shares ordered today or tomorrow. Happy February!
May 21st is Baby Chick Day! Which has now increased to baby chicks, lambs, bunnies, hopefully, cows and piglets and whatever else decides to show up before then?  😉 We would love to show you around!
February 25, 2017
A shout out to all moms.
We were at the MOSES Organic Conference this weekend. I am learning so much and thriving in being around like-minded, crazy people. 😉 As a farmer, I am being motivated and rejuvenated for this coming year, and able to take care of myself without the regular workload of the family and the farm.
This has left me a bit of time to reflect on being a mom. I am blessed to have 7 amazing children from the ages of 2 to 12. With two sweet princesses and 5 gallivant knights in my care at all times, being away makes me feel as a mom, well, empty, strange, like something is missing. It is so odd to not be caring for the children that I love. Most days at home include, chores, homeschooling, planting or some farm work, washing eggs, and other farm chores and it is crazy, busy keeping 7 kids at peace with each other but it is wonderful. I have been away from my 2-year old for the first two nights since she was born. She is still nursing. This care and love for your kids is a maternal gift, and sometimes not so much of a gift when your heart aches when they are hurting. As a mom, I would give my kids anything in my power I can to keep them healthy and mature.
That long monolog is just to let you know I understand the love you feel for your family and know that can motivate you to try and find a reasonably priced way to feed your kids great, healthy food. I understand the commitment to feed and nurture your family to the best of your ability. Our family is blessed to feed your family with the best produce, meat, and eggs that we can. We are looking at trying to mechanize a bit more of our planting so we can keep the prices low and still grow the great organically raised produce you know and love. Thank you for caring for your families and helping me care for mine by supporting our farm. We SO appreciate you! Be blessed!
February 17, 2017
This has been such a beautiful week of warm weather. It is pretty strange to be dealing with mud in the middle of February but I would take it over high greenhouse heating bills any day! Lots of fun things are happening around here. We got our first batch of broiler chicks, we are out of chicken again! Sorry! And we received 25 chicks for our kids to show in 4H. Some have feathers on their feet and some have top hats. They are so cute!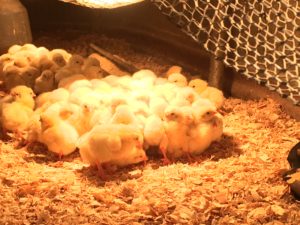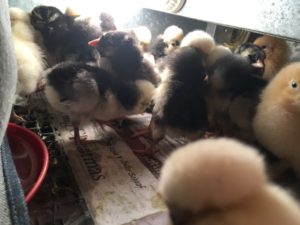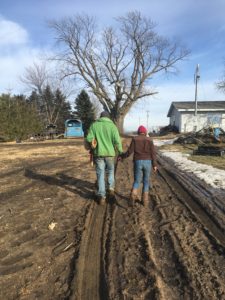 We had the vet out to check if our cows are pregnant. It looks like we have 25 to calve this summer. My favorite cow Luna is not pregnant yet, hopefully soon. She gave us a beautiful calf last summer.
We took a little break from the packing shed because taxes took over my husbands waking hours. He had our tax appointment today so no more 2 am nights at the computer for taxes this year. Yeah! Now we are looking at these beautiful days and trying to prioritize if we should be building our livestock pavilion, finishing the pack shed, cleaning out the rental house next door or putting meals in the freezer for when I am too busy to cook all this good food when we get really busy outside. Yikes! We will figure it all out. One day and one prayer at a time right?
February 14, 2017
Happy Valentines Day! We are so blessed to have those around us that mean so much to us. Give a hug to those around you that mean the world to you. I will try and follow my own advice and do the same thing.
We are taking the kids to two different nursing homes in the area to spread some blessings to the residents. Busy making Valentines around here. Blessings on your day!
February 13, 2017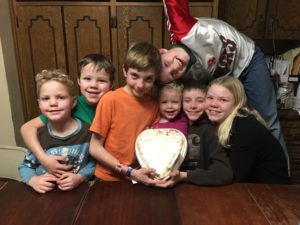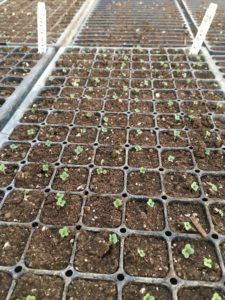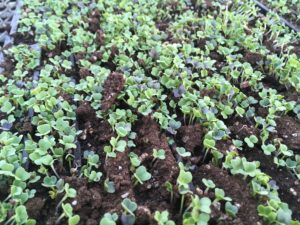 It was 89 degrees in our greenhouse today because of a little bit of heat and a lot of sunshine! Feels like spring.
The micro-greens we planted are now sprouting. 🙂 Happy day. The first green shoots have appeared.
February 10, 2017
We did it! There are now 30,000 onions planted in our greenhouse! It is so fun to get our hands in the soil that first time. We love what we do. Our backs are a bit sore and there is dirt under our fingernails but that is part of this business. Along with the onions, we also planted kale, kohlrabi, swiss chard, 3 kinds of romaine lettuce, and micro-greens.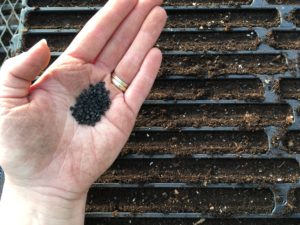 We are greatly appreciating the sunshine because it takes a good amount of fuel to heat a structure covered with two layers for plastic separating it from the outdoor weather when it is cold. The sun and warmth help immensely to keep the heating bill down. Thank you, LORD!

January 24, 2017
This is it! Our new website is online now. How fun to have a page that features our own produce and our own personal logo. Thanks so much Daniel and the whole Warner family for how amazing you are! This is very cool. How fun to have this new site under our belts. Yeah for winter when we can work on other things besides harvesting, weeding and feeding our amazing CSA family.
Our farm is running smoothly. We still have no employees. We are looking to hire come March. It is fun to be out with the animals every day, at least when it isn't way below zero or an ice skating rink. I did have an interesting time picking up eggs not that long ago in a below zero days. Walking to the chicken house I was walking right into the wind. I was carrying the empty basket with one hand and using my other to cover my, not totally wind burned yet, face. Who needs to see where they are going right? Add that to the fact that the ground below my feet was slick ice. I was praying I made it to the hen house safely and then back up with the basket of eggs without wiping out. Eggs are much better when you scramble them in the kitchen rather than out on the ice! 🙂 When I made it to our ladies I noticed their water was frozen over so I had to break that out of the pan and bring them fresh water. Back out into the icy wind and to the hydrant that is farther away because the one close to the chicken house, along with their automatic water system, was frozen. Then I was able to start to collect eggs. One out of 6 or so eggs was cracked because they froze. The few eggs that I did get went into the basket. As I was walking up to the house with the wind blowing on the very cold eggs I heard a few snap as the shell cracked. Crazy how much different farming is in the winter than the summer!
Our sheep are starting to get some pretty big bellies on them. They are due in about a month. We will see what comes in lambing season this year. Praying for lots of healthy and adorable lambs! It is such a blessing to see these little cuties come out and prance around within a day or two. Did you know lambs start black and turn white? I will post pictures when we get closer.
Hope everyone is enjoying their winter! Can't wait to grow for you again this season! Tell your friends if you want to share the bounty of our farms with those you love. Thanks for supporting us! We love what we do (even in our insanely busy summers) and we couldn't do it without you!
January 1, 2017
Happy New Year! It is so exciting to be embarking on a new year and another season. We are starting our 8th year of the CSA business and loving it. We are just starting to get our seeds and still have some to order.
As we reflect on 2016 we realize how blessed we are in this business. Here are some of the highlights:
Our new pack shed was completed and is such an asset to our farm!
We have fulfilled half of our contract to grow lettuce for the Minneapolis school kids, more to come in the spring!
Our growing season was fantastic for most crops excluding our wet crops because of the wet weather.
Our meat and egg sales are really picking up along with our produce to the consumer as long as retail accounts.
Our kids are getting old enough to help!!! (and my youngest is out of diapers!) 🙂
We hope you are having a blessed beginning to your 2017 also and we encourage you to add eating healthy real foods as part of you new years resolutions! Maybe you could buy some of that great food from My MN Farmer. Enjoy your new year!