April 18, 2016
Wow! What an amazing day! We finished planting all of the onions today and it took less than a week. This is a record for our farm. We could not have done it without all of our wonderful volunteers. Thanks you so much!!! There is a total of 20,000 onion sets in the ground, 45,000 onion plants we grew from seed and 8400 feet of potatoes! We also transplanted arugula, spinach and a whole bunch of kale. It was an amazingly productive day. Then we came in the house and one of my 21 emails started "Congratulations Jean!" and it wasn't spam. 🙂 We were awarded the MN Department of Agriculture Value Added Grant. Yeah! It feels so good to know that other people think that what we are doing is worth supporting. We feel like we are doing an awesome thing but having this backing really gives us a great boost. Thank you so much MDA! We are so blessed!
April 3, 2016
Unfortunately our cookies were full so I was unable to update our website for way too long! There has been so much going on around here. We have had lambs, chicks, one bull calf, employees starting, volunteers visiting, a bursting full greenhouse, high tunnels being built and about half of our tunnels have crops in the ground! It has been extremely busy!
Our greenhouse is green despite the snow last week! It just costs a bit more to heat it. 🙂
March 17, 2016 (part 2)
Don't forget about our annual Baby Chick Day!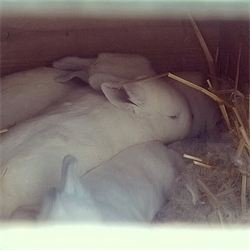 Meet our baby chicks, baby bunnies, lambs, piglets, calves and tour our high tunnels and fields! We would love to show you around!
Free to members and non-members.
Sunday, May 22nd
2:00 to 7:00
Your favorite farm 🙂
My MN Farmer
35100 191st Ave
Montgomery, MN 56069
March 17, 2016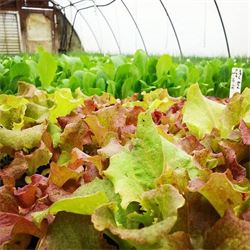 It feels like spring around here, despite the date on the calendar! The lambs are almost done popping their heads into this world, the greenhouse is 3/4 full, the high tunnel has its first baby plants in the ground, our baby chicks are here, our pullets are laying adorable little eggs, and the temp in the greenhouse is typically 60 or a lot higher. We are gearing up for another great season!
I could post 1,000 pictures but I will try and just post a few so as not to overwhelm your eyes. There are lots more posted on instagram and facebook. Enjoy these first peeks into spring!
February 16, 2016
It has been a wonderful winter and we are ready to go in our 2016 season. We already have our greenhouse turned on and we have plants sprouting. The first seeds to sprout were the kale but the cabbage, lettuce and spinach soon followed. It is so fun to see the little heads peek above the soil.
The lambs are due to start showing up in about two weeks. Then it will really start to feel like spring! We better enjoy our sleep now!